When it comes to writing small town crime fiction, Terry Shames is one of the masters. With Jarret Creek Texas, protected by the brought out of retirement Chief Of Police Samuel Craddock, she has created a believable community. In her latest. A Risky Undertaking For Loretta Singletary, a significant member of the community goes missing.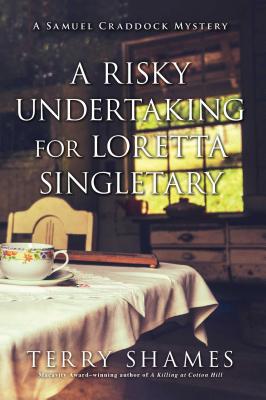 Noticing it's been awhile since Loretta has stopped by his house with her cinnamon rolls to gossip, Samuel goes over to her house. He finds out that she had packed as well as left dirty dishes in the sink. He soon discovers Loretta was meeting a man through a singles website. Further poking around takes Deputy Maria Trevino, and him through the darker side of online dating. They also pick up ties to the Baptists Church wanting to sponsor the goat rodeo with the Catholics.
This is self assured crime fiction writing at its most entertaining. Shames has a clean and direct style and knows her characters. She knows her readers understand the friendship between Samuel and Loretta and relies on that understanding to develop tension as Samuel grows grumpier and more concerned over her. His frustrations with the goat rodeo controversy and the shenanigans of two dim bulb brothers become obstacles that hinder the investigation. Even a tryst with his girlfriend Wendy is bittersweet, as Samuel knows it's just a respite from getting out of bed to face his worst fears about Loretta's fate.
A Risky Undertaking For Loretta Singletary is a prime example of Terry Shames as master craftsman. She juggles humor, suspense, character, and setting to whip up a narrative drive that keeps you reading and caring. She once again gives us a welcome return to Jarret Creek.