Steven Saylor's Ancient Roman detective, Gordianus The Finder, finally takes on the biggest murder of his time in The Throne Of Caesar. He will be discussing it at BookPeople on February 22nd, but our Scott Butki got in some early questions in concerning writing about history and work in the future.
MysteryPeople Scott Butki: Let's start by talking about how you came up with this seed of an idea that became this novel. You got the idea at a cocktail party with scholars?
Steven Saylor: I was invited to speak to a group of Classical scholars meeting at Baylor—a long way from Rome!—and a professor named James O'Hara, having heard me bemoan the "impossible challenge" of writing a mystery novel around the Ides of March, said to me, "Make it about…X." In the Author's Note to The Throne of Caesar, I fill in the blank, but it would be a spoiler to do so here. The point is, I am so lucky to be linked in and to get insights and feedback from some world-class experts on the ancient world. Sometimes all it takes is a single word, as in this case, to get me over the stumbling block and out of the starting blocks.
MPSB: As someone writing about Ancient Rome did you feel you had to write, at some point, about what you call "the most famous murder case in history"?
SS: Once I realized that my first novel Roman Blood (set in 80 B.C.) would become a series, getting to the assassination of Caesar in 44 B.C. seemed a natural goal. It's such a huge watershed event, a real before/after moment in world history.
MPSB: If anyone thinks they already know how this story will end—it being so famous after all—what would you tell them?
SS: As in most of my novels, there are two plot lines running parallel and simultaneously—the plot on the surface, and the invisible plot. You know how one will turn out, but hopefully the other will give you a surprise.
MPSB: How did you decide how much of Shakespeare to quote in the book?
SS: There's only one direct homage to the Bard, when a certain character speaks a line lifted directly from Julius Caesar. I reveal the details of that in Author's Note. It's a line that works one way in Shakespeare's play, and a different way in my version, so it's loaded with irony, and one of many in-jokes sprinkled throughout the book that may amuse history buffs and Shakespeare lovers.
MPSB: Let's back up now. Why did you start writing novels about Ancient Rome in the first place?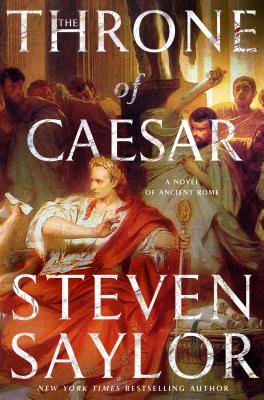 SS: I give a great amount of credit to the sword-and-sandal movies of my childhood, chief among them Cleopatra, written and directed by the great Joseph Mankiewicz. The tale of Caesar, Antony, and Cleopatra became one of the central myths of my imagination. The assassination scene in that movie is pure cinematic genius, unforgettable. I went on to study Classics and history at UT Austin, and then years later had the idea to turn Cicero's first murder trial into a crime novel; that became Roman Blood. The book found a readership, and I suddenly had a whole career ahead of me.
MPSB: Why did you decide to write erotic thrillers under a different name, Aaron Travis?
SS: That was back in my slacker twenties, which are a bit of a blur now. Hormones ruled my life, and the erotic was my muse. I've kept those works available in e-editions for the discerning connoisseur, but I must warn readers that they are not for the faint of heart.
MPSB: When I last interviewed you you said, "I would like to write another historical epic set in Austin some day, about the early days of the Texas Republic." Is that still on the radar?
SS: Hmmm, off the radar for now, I would say. I have a current project that's consuming all my research and storytelling. (More about that below.) But every now and then I find myself musing about Mirabeau Lamar and Sam Houston and their competing visions for the Republic of Texas. I still collect books about that period. You never know.
MPSB: As both a graduate of University of Texas and a part-time Austin resident, what are some of your favorite spots around Austin?
SS: My Austin is all about swimming, running, Tex-Mex and BBQ—working up an appetite at Barton Springs, Deep Eddy, Hippie Hollow, the trail around Lady Bird Lake, and the Barton Creek Greenbelt (but not all in the same day!) and then eating at Maudie's, Green Mesquite, Chuy's, or The Iron Works. For culture, I love the Blanton Museum; I'm eager to see Ellsworth Kelly's "Austin" structure. And I still drop in on the occasional lecture on the UT campus.
MPSB: What would readers be most surprised to learn about you?
SS: I've been with the same guy for well over forty years now, since Rick and I were both at UT back in 1976. Now we're legally hitched. Such long marriages are not so common these days. I'm very lucky to have had so much emotional continuity in my life. I've also had the same editor and agent since forever. I'm very loyal, I suppose.
MPSB: What are you working on next?
SS: My next novel will be the third volume in my family saga series, to follow Roma and Empire. It's a big chunk of history, taking the family from the philosopher-emperor Marcus Aurelius and his no-good playboy son Commodus (notorious from the movie Gladiator, though my version will be very different) all the way to Constantine the Great, who made Christianity the state religion. Along the way we meet the sun-worshipping, drag-queen emperor, Elagabalus. His reign was quite short, I'm afraid, but he made quite an impression.