Ace Atkins is one of my three favorite current crime writers, for his captivating series about former U.S. Army Ranger Quinn Colson, and he continues to impress on his 8th book in the series, The Shameless.
(In case you're curious the rest of the three are Laura Lippman and Craig Johnson.)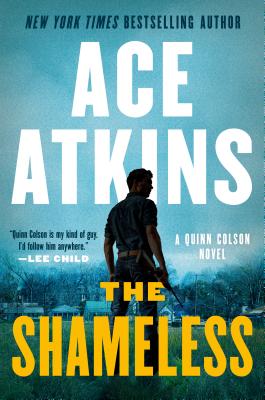 The Quinn Colson books always have fascinating characters and interesting plots and plot twists. This new one is better than usual because there's a political candidate criticizing the media as "fake news" as well as an alt-right group, so he's capturing some of the current climate in America.  This new one also has buried secrets, dirty lies, and lots of greed and ambition.
One of the main plot lines in the new book involves how 20 years ago a teen boy named Brandon Taylor was thought to be just another teenager who ended his life too soon. Now, two New York-based reporters working on a podcast show up in town, asking Sheriff Quinn Colson and others important questions: What happened to the evidence? Where are the missing files? Who really killed Brandon?
While Quinn wants to help and his wife was a close friend of Brandon, Quinn was just a kid himself when this all happened in 1997. Quinn's also busy now dealing with a criminal syndicate trafficking drugs and women through the MidSouth.
Quinn's been fighting evil and corruption since he was a kid, at home or as a U.S. Army Ranger in Afghanistan and Iraq. This time, evil may win out.
In between writing Quinn Colson books Atkins, a former newspaper reporter, writes novels about protagonist Spenser, Robert B. Parker's iconic character. After Parker's death in 2010 his estate asked Atkins to continue the series.
Atkins was nice enough to let me interview him again about his new books. You can read one of our prior interviews here.
Scott Butki: I always love your Quinn Colson series but this one seemed even better than usual, and I think part of that was because you decided to reflect the current political scene in there. Why did you decide to include references to alt-right groups and a Trump-like governor candidate talking about "fake news"?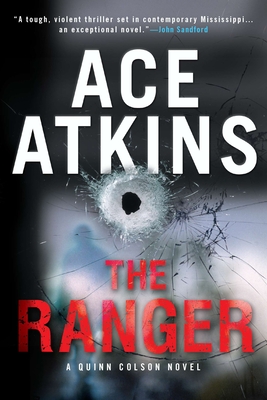 Ace Atkins: My friend Jack Pendarvis recently commented that when I first started writing Quinn—in The Ranger—these people were hiding out in the woods, and now they're rallying on the town square. I think that's a pretty accurate statement on the times we're living in. If I'm going to keep writing about the Deep South, I had to write about the decay of decency, truth, and ethics embodied by our current political climate. Quinn has always been a classic moral hero and recognizes good from evil. Pretty standard stuff, right? These days, many people don't seem to know one from the other. That's pretty much the whole backbone of The Shameless.
Scott: As a former journalist yourself how do you feel about what's happening with people not believing the news media as much, often with that cry/assertion of fake news?
Ace: I never thought I'd hear that kind of junk in America. That kind of talk sounds like something from the old Soviet Union or some Banana Republic dictator. This country was founded on the right to stand up and call our leaders on their bullshit. And the press has always been a watchdog against corruption.
When I was at The Tampa Tribune, we had reporters routinely check budgets and spending of local leaders. Now—with the rise of so-called fake news—you actually have citizens taking elected officials at their word instead of the people who found proof the politicians are lying to them. Absolute insanity. The alt-news, alt-facts people remind me of folks you'd find in a cult. They latch on to a leader and won't listen to logic or facts that contradict that leader. This isn't just stupid. It's dangerous as hell. This is how you lose democracy.
Scott: I also like that you make a bow to the current popularity of podcasts. What made you decide to include podcasts in the book, and how did you go about interweaving that into the plot?
Ace: The original concept of the novel was for the story to be written in a series of flashbacks to when Brandon Taylor first disappeared in the early 1990s and the initial search to find him. But I've done that type of story a few times and didn't want to repeat it. I also felt like the podcasters offered something to new readers of the series: a chance to see Tibbehah County with fresh eyes and a brand-new perspective. I really like how those sections played out.
Scott: Do you have favorite podcasts. What are they?
Ace: Definitely "In the Dark: Season Two." Speaking of journalism, the amount of work and dedication by Madeleine Baran and her team was astounding. They recently spoke here at the University of Mississippi, and I made a point to meet them and tell them how much I respected what they'd accomplished. Their investigation into the death row conviction of Curtis Flowers just led to a reversal by the U.S. Supreme Court.
Anyone who doubts the value of journalism and holding elected officials accountable should listen to this podcast. The amount of corruption, lies, and evil they uncover is astounding. Even for Mississippi.
Scott: Maybe it's because I do a lot of anti-racism work but I was intrigued that you also had Caddy's mom, on page 33, making a common racist remark, about race and athleticism. Why did you decide to do that?
Ace: I know what part you're talking about. Jean Colson's grandson is a mixed-race child who's good at football and she jokes about him not getting his talent from the white side. It was obviously a racist comment made by a woman who would never consider herself a racist. She also loves her grandson deeply and would never want to say anything to hurt him. I guess what that's all about is racism takes all forms, from small jokes to insane people marching with torches. None of it is good. But it definitely permeates our culture whether we admit it or not.
Scott: I guess the term may have been around before but seeing your book referred to as "country noir" was a new term for me. How do you feel about the term and it being attached to your book/series?
Ace: I've read many reviewers or critics often try to define books about the South that focus on the rougher side of life. I've heard "grit lit," too. Country Noir seems to be the latest. I think while my Quinn Colson books definitely have a strong noir influence, they aren't pure noir because there is a moral center in Quinn. My buddy, David Joy, probably defined my books best by calling them a hybrid of noir and hero books. If I just stuck to my bad guys and their story, it would fit the noir definition a little better. But overall, I'm in for anything that will highlight a genre I really love.
Scott: What's the status of the film version of your book, The Ranger?
Ace: Something big is in the works, Scott! But I've been sworn to secrecy. Buy me a few Shiner Bocks in Austin at the Texas Chili Parlor and we'll talk . . .
Scott: It's been a few years since you started alternating between writing books in the Quinn Colson series and the Spenser books. Has it become easier or quicker switching from one series to the others? 
Ace: Nope. In fact, it seems to get tougher. It's mainly the added level of writing a novel in a voice that isn't necessarily your own. I don't just write a book about Spenser, I write a book about Spenser as it might've been told by the late Robert B. Parker. With Quinn, I just write in my own natural voice. Switching back to Quinn is easier than going back to Parker. To get back into Parker's voice, there is a tremendous amount of prep each time.
Scott: Do you have a favorite of your Quinn Colson series and a favorite of your Spenser books?
Hmm. I think I have a particular good feeling about The Forsaken for Quinn as it was the fourth book and the one that really kicked the series into high gear. I always knew this was a series with legs, but I think The Forsaken hopefully showed the fans how many ways we could go with a rural county in north Mississippi.
On Spenser? I had a lot of fun with the last one, Old Black Magic, because its ties with the incredible Gardner art heist in Boston. I became absolutely obsessed with the real case.
Scott: What are you working on next?
As I'm about to leave for Quinn Summer Tour on July 9 for The Shameless, I'm wrapping up my eighth Spenser novel—Angel Eyes. It will be out sometime in November. It's a fun book as it's my first chance to have Spenser reconnect to old friends, fan favorites, in Los Angeles.