I've heard much praise for Cristina Alger, mainly due to the success of her novel, The Banker's Wife, so I had high expectations for her new book, Girls Like Us.
Alger met the hype and them some. With fascinating, deep characters and excellent plots with good twists, I was enthralled with this book.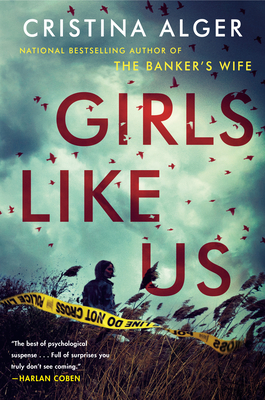 The novel centers on the investigations of three grisly murders on Long Island, inspired by the real-life Gilgo Beach murders.
As the book begins, FBI Agent Nell Flynn has returned home to Suffolk County for the first time in ten years following the death of her father, a local homicide detective, with whom she's always had a complicated relationship. Her mother was brutally murdered when Nell was just 7.
Intending to spread his ashes and take care of his affairs and leave, Nell instead gets pulled into investigating local murders.  She becomes increasingly convinced that her father, who died in a motorcycle accident, should be the prime suspect and his follow cops were covering his tracks.
Alger worked as a financial analyst and a corporate attorney before becoming a writer. Her other books include The Darlings, and This Was Not the Plan.
She was nice enough to agree to do an email interview with me.
Scott Butki: How did this story come together?
Cristina Alger: I've always been a true crime addict, and when the bodies of four young, female sex workers were found on Gilgo Beach in Long Island (a town which happens to be not too far from where I live) I followed the case with obsessive interest. The more research I did, the more questions I had, not just about the killer but about the police officers conducting the investigation. Eventually, all my late-night research blossomed into a novel.
Scott: Which comes first for you, characters or plot?
Cristina: I was a lawyer in my past life, and most of my novels come from true crime stories which pique my interest. If I find myself researching a news story or cold case for long enough, I can't help but wonder how I can turn it into background for a novel. So I'd say plot comes first, though character goes a long way in refining the details.
Scott: How did you come up with the intriguing premise of a FBI agent realizing the primary suspect in a series of grisly murders might be her recently deceased father, himself a homicide detective? 
Cristina: When I decided to write a book loosely based on the Gilgo Beach murders, I realized the thing that interested me most about the case was a theory that kept cropping up on true-crime web forums (and which I kept considering myself): the killer was actually a member of the Suffolk County Police Department and was actively working to keep the case cold. I used that theory as the springboard for the novel. I've always been interested in the relationship between adults and their parents — that theme comes up again and again in my writing — so it added an extra element to have Nell, the protagonist, investigating her own father.
Scott: How did you do research for this book?
Cristina: I had the best stroke of luck when researching this book: a bookseller friend of mine introduced me to her husband, a retired Suffolk County Police Detective. He was an amazing resource for me, and offered up so much background on his career and cop culture generally. After I met him, the book really started to click into place.
Scott: What do you want readers to take away from this book?
Cristina: As a thriller reader myself, I'm tired of reading about women who are crazy or manipulative or in need of saving. The suspense market feels flooded with these stories. I hope readers walk away from my books feeling like an alternative exists: there are thrillers which highlight strong, independent women, women who are the heroines of their own stories.
Scott: What has it been like getting praise from such authors as Lee Child and Nelson DeMille for your books?
Cristina: I mean, dreamy! I can hardly believe it. They are the writers that made me love thrillers in the first place. I'm deeply grateful for their generosity.
Scott: Have you been able to draw on your past work as a financial analyst and corporate attorney when writing these books? If so, how?
Cristina: Law school taught me two things: how to research and how to write in logical, pared-down prose. I lean on those skills every day as a writer. My previous work life taught me discipline. I'm used to long hours and hard work, and that discipline propels me through those rough patches when I'm not feeling inspired.
Scott: I have heard your last book, The Banker's Wife, is currently in development as a limited TV series by the team behind Homeland. What's it like having one of your books turned into TV? How much involvement will you have with the project?
Cristina: I'm over the moon about the team developing The Banker's Wife. The director, writer, producers and lead actors are amazing (and all women!). I'm not intimately involved in the project, though I've hung around as a resource — particularly when questions about finance crop up. But for the most part, I try and stay out of the way — this book's in great hands.
Scott: I understand you love thrillers. Who are some of your favorite current authors of thrillers?
How long do you have? I have so many. I will read anything by Laura Lippman, Meghan Abbott, Karin Slaughter, Gillian Flynn, Alafair Burke, Jane Harper, Flynn Berry, Lee Child, Nelson de Mille, and John Grisham. I also love Nordic Noir: I'm Traveling Alone by Samuel Bjork and Snare by Lilja Sigurdardottir are recent favorites.
Scott: What are you working on next?
Cristina:  Another thriller! And I'm having my third child in a few months, so lots of projects in the works.