Denise Mina is mainly associated with dense, dark crime novels that delve into society's ills. Her last novel, The Long Drop, was a chilling portrayal of a true crime and trial in fifties Glasgow. In her latest, The Conviction, she follows the Monty Python saying, "And now for something completely different."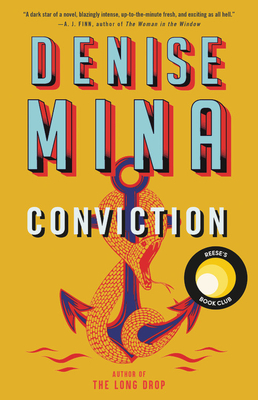 She introduces us to Anna McDonald, though that is not her real name. Living as a trophy wife with children, she turns to true crime podcasts for her daily escape. Soon her life will become one.
Her husband reveals he has been having an affair with her friend Estelle, and the two of them are leaving with the kids. Her latest podcast, Death On The Dana, interrupts her suicidal despair. It tells of how millionaire Leon Parker and his children died on their yacht. The ships cook was convicted, but the podcast host believes Parker did it. Anna disagrees, since she knew Parker in her former life and doesn't believe he would have been capable. By the time she decides to look into the crime to get her mind off of her crumbling life, Finn Cohan, Estelle's anorexic former pop star husband is at her door. With as little to live for as Anna, he joins her in her quest for the truth, doing a complimentary podcast to reignite his fame. Their search leads to revelations that are also connected to Anna's secret past and brings out a group of killers hired by  someone who wants everything to stay covered up.
Mina delivers many of the trappings of a modern thriller. Our odd investigators travel across Europe, hounded by hitmen, dealing with secrets. She taps into a woman finding her courage and conviction under the threat of her life. She even has a quirky sidekick.
She takes all of that and goes deep. As the plot grows grander in scope, it becomes more intimate with our heroine. A chapter with a Russian killer after them becomes a short story inside the book, with humor and pathos. When Anna's true identity is revealed, it is devastating information that has us rooting even more for her. Mina is able to hit many of her known themes of class and media, seen from a different angle as she celebrates the power of damaged people.
Her humor is used to standout effect. While we know of her ability to use it, particularly in her Patty Meehan series, she'd never had a subject that allowed her to fully draw it from her literary palette. She uses it in her love-hate relationship with Anna and Flynn and as a crutch to deal with their personal pain.
Conviction is not only proof of Denise Mina's talent, but of her range. It's her David Bowie's Let's Dance, a possibly more accessible piece that will hopefully draw a larger audience that doesn't compromise her artistry and themes. She provides the quintessential summer read with a forward momentum driven by it's broken and bickering leads. I hope she can come up with another case for these two to crack.