If I asked you how you like your morning coffee or tea, would you have a specific strength you always enjoy your day-starting drink that never, ever changes? Or are there times when you mix it up, taking your normally dark-roast coffee with a splash of cream or occasionally skipping the milk and sugar in your English Breakfast for a stronger kick? If so, while it's still your preferred morning brew at heart, a little change every now and again often makes for a new and enjoyable outlook on the drink you love. I'd like to believe the same can be said for sub-genres within the crime-fiction world, including my personal favorite, the cozy mystery.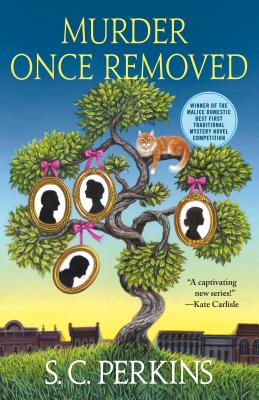 When my own debut cozy, Murder Once Removed, came out this past March, BookPeople's Scott Montgomery dubbed it a "light thriller," and I couldn't have been more delighted. Though I can respect and understand the purist's stance that a cozy should not deviate from the elements that have traditionally defined the lighter take on mysteries, I have to admit I'm happy to see varying "strengths" of cozy mysteries on the market. And because of this, I think we might be seeing more and more cozies that could be considered light thrillers.
But before I get into why I think cozies might be going for more thrills, let's look at what generally constitutes a cozy mystery and what aspects might give them a little more of the thriller factor.
It's no wonder the word "cozy" is used, and it's a big clue, with the book having traits including:
a lighter tone with a slower pacing;

while the murder happens, it takes place off the page and the gore level is minimal;

the protagonist is an amateur sleuth with an interesting profession and is someone with whom the reader might like to be friends;

the charming small town (or fun big city) where the reader wants to visit;

there's usually a little bit of romance, often with a dose of will-they-or-won't-they banter;

and the cast of secondary characters who occasionally fly their oddball flags provide a sounding board for the protagonist, a sense of family and/or the voice of reason, and some comic relief.
Also, the protagonists in cozy mysteries are everyday people just like us who get to do what all of us who love mysteries wish we could:  right wrongs, save a life or two, and do it all without seeing anything too creepy, getting hurt too badly, or having the local law enforcement throwing us in jail for interfering with an investigation! We can only dream, am I right?
Anyway, when a cozy mystery veers toward a light thriller, it's because it draws more heavily than normal on one or more of the aspects of its darker cousin, including—
a faster pace;

a mystery that involves potentially higher stakes;

the protagonist knowing who the villain is instead of attempting to discover whodunit, and racing against time to stop a tragedy from happening (or from happening again);

the threat level from the villain starts high and never seems to ease;

stronger language and/or a more sinister climactic event;

and a heroine or hero who isn't just flawed, but also may have physical or emotional challenges that leave them more open to attack.
So, how does Murder Once Removed incorporate some thriller-like aspects? Well, without giving too much away—no spoilers here!—my genealogist protagonist, Lucy Lancaster, finds an old photograph called a daguerreotype and some journals that connects her wealthy client, Gus Halloran, to a U.S. senator. Very quickly, Lucy finds out that someone wants what she's found and is willing to kill to get it. The threats to Lucy's life, and those of her friends' lives, come at a faster rate than your traditional cozy mystery.
Plus, while I chose the setting—Austin, Texas—because it's a big city with a decidedly small-town feel, its urban status helps to set the stage for a darker feel to the narrative (which I hope is pleasantly offset by Lucy's positive attitude, slight naivete, and doses of humor sprinkled throughout.)
As to why I think we might be seeing more of these types of lighter mysteries, I believe it's solidly built on the precarious world we live in today. With so many tragedies and so much negativity around us, we all need some of the many optimistic qualities that the cozy mystery embodies:  good-yet-imperfect people trying to do right, warmth, friends and family, and the notion of how one person with a can-do attitude can really make a difference in the world and bring about a happy ending.
They're also just so dang fun to read, too. And the writing from cozy authors is as well-crafted and stellar as you'll read anywhere, making the cozy mystery not just a respite for the world-weary reader, but also a treat to enjoy.
If you happen to like the "light thriller" style of mysteries (or think you might be willing to add a dash of them into your reading lineup), here are just a few of the series I would recommend:
The Sarah Booth Delaney mysteries by Carolyn Haines
The Bibliophile mysteries by Kate Carlisle
The Noodle Shop mysteries by Vivien Chien
The Speakeasy Murders by Susanna Calkins
The White House Chef mysteries by Julie Hyzy