As a former journalist and a fan of mysteries I'm a bit biased in favor of books about the news media written by current and former journalists. I thought I should mention that as I introduce an interview about the latest book by R.G. Belsky, Below The Fold.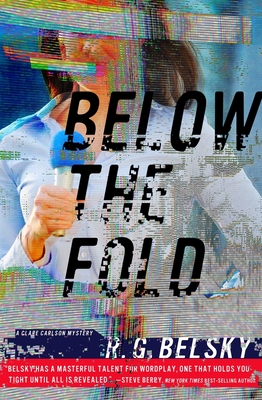 That said, R.G.'s books would be great reads even if they were not based in the world he knows best, the news media.
This is the third time I have been lucky enough to interview R.G. by email, here for his novels The Kennedy Connection and Shooting for the Stars and here for Blonde Ice.
While those books had a protagonist named Gil Malloy, this new book has an intriguing protagonist named Clare Carlson, a TV news director who still has a reporter's instincts.
As the book begins one of the news reporters wants to go against the grain and do a news piece on the murder of a woman who is homeless. While that story would often not get much media attention Clare approves a story about this woman who called herself Cinderella.
Soon there are more murders, more victims, more questions.
And with that, let's get to the interview.
Scott Butki: How did this story come together?
R.G. Belsky: I've worked for many years in the media (at the NY Post, NY Daily News, Star magazine and NBC News). We in the media are frequently criticized for only focusing on sensational, high profile crimes in our coverage. Like O.J., Jon Benet, Casey Anthony etc. So I decided I wanted to write a book where a media person—Clare Carlson, news director of a New York TV station—decides to cover a murder that normally would be ignored: the death of a homeless woman on the streets of Manhattan. In this case, a seemingly insignificant death leads to links to powerful and influential figures which turned it into a sensational headline murder. But I wanted to show how every murder victim can have a story, once a journalist goes looking for it.
Scott: Which comes first for you, the characters or the plot?
R.G.: I'm very big on the importance of character. If I like the character, I'll read a mystery novel even if the story isn't great. But a great story won't keep me turning the pages of a book where I don't relate to the character or characters. So obviously I follow the same approach in writing my own mysteries. Clare Carlson, my character, comes first. I figure if I can get her right readers will follow her wherever the story leads…
Scott: In what ways is the protagonist, Clare, the news director for a New York City TV station, similar and different from you?
R.G.: Well, she's a woman, and I'm not. I suppose there are some similarities between Clare and me. But I didn't really create her based on me. I drew my inspiration from a lot of terrific journalists—men and women—that I've worked with in newsrooms over the years. People who became obsessed with their jobs and with breaking the big story—even if the rest of their life suffered as a consequence. As I frequently have said, "I've known a lot of Clare Carlsons in my life."
Scott:  When I last interviewed you here, you were doing a series starring Gil Malloy. Why did you switch to a series featuring Clare? Did you base Clare on people you have worked with?
R.G.: Clare was not originally meant to be a series. In 2016, the same year as the last Gil Malloy book came out, I won the Claymore Award at Killer Nashville for a manuscript about a woman journalist who is hiding long-buried secrets about a sensational missing child case that she's been covering. It was meant to be a stand-alone book based on this one story.
But the character, Clare Carlson, worked so well I was asked by my publisher to turn it into a series. I'm sure glad, because I love writing about Clare.
Scott:  Did you decide to write about the news media in your novels as a way to draw on your knowledge and experience?
R.G.:  Absolutely. I'm a great believe in the "write what you know" approach to being a fiction author. I know a lot about newsrooms and the media, so that's where I set all my books. Besides, if I wrote about lawyers or spies or anything else, I'd have to do a lot of research. And, believe me, I hate doing research! But seriously, I believe my media background adds an air of authenticity to my books which hopefully makes Clare more interesting to the reader.
Scott:  What do you hope readers will take away from your books?
R.G.:  That it was a good read! Fun, entertaining, thought provoking—and all that kind of stuff. I write books with the idea that I want them to be like the kind of books that I like to read myself. I figure that if I like my books, other people will too. As a mystery reader, I love reading characters like Harry Bosch, Spenser and Kinsey Millhone. As a TV mystery fan, I loved The Rockford Files and Columbo. So I tried to draw on elements from all that when I created Clare Carlson. I want people to enjoy spending time with Clare.
Scott: What DO you think on the true state of journalism today?
R.G.: Oh, my! We could talk for hours about this. Yes, journalism has changed dramatically since I started my career. Back in the 1980s, we used to sell a million copies a day of the New York Post—and everyone got their news from newspapers or TV. Now print newspapers are shrinking or dying rapidly, and many people get their news from smart phones, tablets, and websites. But I'm not some old "get off my lawn" journalist who wants to tell you how terrible journalism is today. I spent several years recently working as a managing editor with NBC News digital coverage—and discovered all the possibilities that social media opens up for journalists. I mean we still have three newspapers in New York City, but we have many, many more news websites springing up every day. Good journalism is good journalism, no matter how it is delivered to the reader.
Scott: What is it like to get blurbs and praise from such authors as Douglas Preston and Michael Koryta, and Meg Gardiner?
R.G.: Yes, I'm always blown away when someone whose work I admire likes my book! In addition to the ones you've mentioned, I've also gotten praise for the Clare Carlson series from Lee Goldberg, Hank Phillippi Ryan and Reed Farrel Coleman. I only seek author blurbs from writers whose work I really enjoy reading (I figure that way there's a decent chance they'll like my stuff too). A long time ago I even got an author blurb from Michael Connelly. Now if I could just figure out a way to get a copy of my next book to Stephen King….
Scott: Is it true that you helped create the famous "Headless Body in Topless Bar" headline? Tell me about how you come up with it?
R.G.: Yes, I was in the New York Post city room when the most famous—or infamous—tabloid headline ever was written. It involved a holdup man who murdered someone at a topless bar, then cut off the victim's head. I didn't write the headline, but my role in that historic journalistic moment is chronicled here.
The funny thing is I've worked in journalism for decades, and accomplished some pretty significant things along the way, But, if you google me, you'll find the most prominent thing is being a part of the "Headless Body in Topless Bar" headline. Go figure!
Scott: What are you working on next?
R.G.: The third book in the Clare Carlson series, The Last Scoop, will be out in 2020. I'm just finishing up the editing on that now. In this one, Clare is on the trail of a serial killer even scarier than Son of Sam or Ted Bundy or the Zodiac. Which was interesting to do because I've covered Son of Sam and other serial killers so extensively over the years as a journalist. Of course, there is also ongoing drama surrounding Clare's personal life, which I love to write about too. If you like Clare in the first two books, I think you'll want to read this one too!