David C. Taylor is fast becoming a go-to author—along side Max Allan Collins and James Ellroy—for crime fiction set in the post-war era. His Michael Cassidy, an NYPD  detective in the the fifties whose back ground allows him to be familiar with high society as well as the street, proves to be a complex hero who finds himself caught up in his country's shadow history. Both author and character have solidified their standing in the latest novel, Night Watch.
This third story takes place between the first and second, Night Life and Night Work. Cassidy catches a double homicide that has a precise and unusual M.O. Before he gets any chance to work it, a mysterious assassin is out to get him. His search for both killers involves the CIA and a real government program linked to the days after World War Two.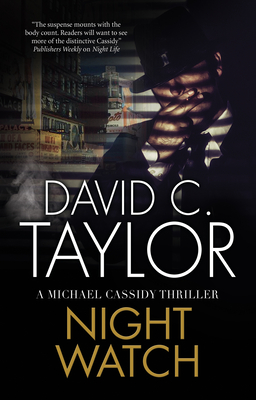 Taylor has created Cassidy as a cross between, Sam Spade, The 87th Precinct's Steve Carella, and James Bond. He's a smart, capable cop, who is a bit of a wise-ass (only for those who deserve it), who works well with his fellow detectives. His good looks, charm, and elegance that come from being born into wealth (His father is an immigrant who made his fortune as a Broadway producer.) allow him to move in circles your average street cop can't and bed many a beautiful women. However the war seems to have affected him. He has an attitude with authority, particularly at the national level, and seems to be in search of a purpose.
Another character that stands out in the series is the New York of that era, and Taylor goes deeper with this story. He gives us the gritty barrios and ghettos that have echoes of early Sydney Lumet films like The Pawnbroker as well as penthouse parties where Gershwin plays. That and everything in between gives off the feeling of the crowd and noise, depicting New York as the center and provider for its country's culture for that period. If Cassidy believes in anything outside his family, it is protecting his town.
With Night Watch, David C. Taylor has proven the reliability of of the Michael Cassidy series. There is a confidence and clean voice to the writing with a hero who can go in several intriguing directions in plot, history, and his own character journey. Taylor balances both sides of Cassidy and his world, resulting in one hard boiled cop tale with a touch of class.