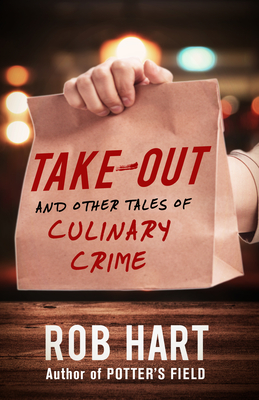 When Rob Hart discovered that many of his short fiction dealt with food, restaurants, and bars, he put together a thematic collection, Take-Out, crime fiction with a culinary bent. He added a handful of new tales to the mix as well. Each one serves as as a masterclass for story telling craft. Rob was kind enough to to take a break from preparing the push for his much talked about book, The Store, coming out this summer, to chat with us about writing, cooking, and his city.
1. Why do you think cooking and dining play a part in a lot of fiction writing?
There's a lot of great detail you can play with there—sensory detail, of course, but too, passion. Everyone is passionate about food. Every food has their own customs and cultures related to it. So you can tell a lot about someone based on their likes and dislikes, where they eat, how to prepare a dish. And at the end of the day, food is the only thing we all have in common—even if the dishes are different, customs of hospitality are generally the same. Everyone wants to sit at a table and leave feeling fulfilled.
2. Is there anything you keep in mind when writing about food?
There's a balance, I think, between getting across the importance and uniqueness of a dish, while at the same time, not burdening the reader, or pulling a Lord of the Rings, where Tolkien would spend six pages describing a meal. For example, in one of the stories in Take-Out, there's reference to a French omelet, which is very unlike an American omelet, and very difficult to cook correctly—and to get that all across in a way that's both informative and concise is a little tough. Or in the last story, which is set in Singapore and about the hawker markets there, there's so much to talk about related to Singaporean food culture… you want to pay respect to that culture, and highlight why it's important and unique, while at the same time writing a good story… it's a lot. But it's also a lot of fun.
3. Your love of New York often plays a part in many of the stories. Other than familiarity, what makes it a great place for a story?
New York is such a huge, diverse city. It's like a playground. And there's the stuff most people know, which is great—it creates a baseline of familiarity with readers—but there are also a lot of weird, off-the-beaten-path places you can go, too. You've also got every kind of language, every kind of culture, and in the case of Take-Out, every kind of cuisine… honestly it's probably spoiled me as a writer. Sometimes the city does half the work for me.
4. Is there a particular way you approach a short story?
Short stories tend to hit me like little bolts of lighting. By the time I sit down to write one I am already very excited for it, and pretty much have it fully-formed in my head. In a general sense, I tend to look at them as little Twilight Zone episodes—morality plays with a bit of a twist at the end.
5. When reviewing Take-Out, I felt like a food critic, explaining how one element, interacts with or combines with another. Do you believe in having more than one layer, even in short fiction?
The best kind of fiction is the kind that can entertain, but there's something rippling below the surface. That's something I'm always looking for—how to get a reader compulsively turning the pages, and then leave having grown or thought or changed a bit. It's what I tried to do with The Warehouse, which is my next book. I wanted to write a ripping thriller that was also very anti-late-stage capitalism.
6. What's the best dish you can cook?
This is tough—I love to cook and consider myself pretty handy with a stove. Stick me in a decently-stocked kitchen and I'll make you a meal you'll want to eat again. But if pressed: I make really awesome chili. Though I never make it the same way twice.