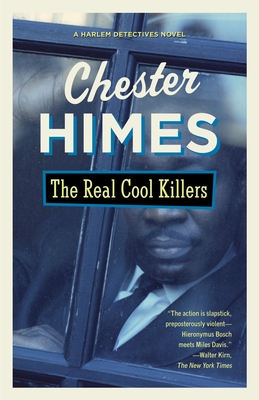 Chester Himes is so much more than the first major African-American crime writer. With his own take on Harlem that heightens both its vibrancy and violence, he was a master at world building. He was also one of the first writers to introduce absurdity into the genre. Both of these characteristics are on grand display in his 1958 novel, The Real Cool Killers.
It opens with a great depiction of Harlem life that turns into raucous violent comedy that would be at home in a Tarintino movie. The denizens at a local tavern, enjoying the drink and badass R&B. The author describes it so well, you can hear the music and smell the sweat. When The Greek, a white regular, drops in, he gets the ire of a customer who comes at him with a knife. The man loses his knife and hand to the bartender and his meat cleaver. The Greek runs out and is chased down the street by Sonny Jenkins, a local drunk with a pistol. Sonny fires and The Greek droops dead.
That's when Coffin Ed and Gravedigger Johnson, Hime's black Harlem cops, hit the scene. They attempt to arrest Jenkins, but The Real Cool Moslems, a street gang in robes and turbans, descends on them. One tosses a bottle of perfume at Coffin, thinking it is acid, something that scarred his face before, and guns down the youth. The gangs runs off, taking Sonny with them. It becomes more complicated when they discover Sonny's gun only fires blanks. If that isn't enough, Coffin's daughter is in with the gang.
With Coffin sidelined for the shooting, Gravedigger is on his own in the search for The Real Cool Moslems and Sonny. He hits the streets, questioning hookers, shaking down hustlers, and not above resorting to pistol whipping or gunplay in his urban hunt. He works more with his white brothers in blue than he has in the previous books. This allows the character to confront the notions whites have of both blacks and Harlem.
As in most of Hime's Harlem Cycle, it feels like the story will burst from its tight plot and short page length. He packs it dense with lively verbs and detail to express the neighborhood and its people. He sets the bar for setting, taking what most authors use as local color and creating an unwieldy, living, breathing organism that's dangerous. It's somewhat ironic, since Himes never lived there.
Humor is prevalent throughout the book. It is often tied to the violence and casual attitude toward it. The dialogue pops and dances. everyone has a justification for their actions and it's usually hilarious. Himes said he used absurdity because that is the daily experience of a black man in white America.
The Real Cool Killers shows Himes Harlem as fast and colorful, full of sex, violence, and humor. It moves to hot jazz and low down blues. It's entertaining to read about, hell to survive.