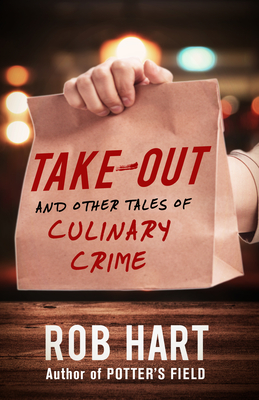 Rob Hart is one of those rising voices of crime fiction who deserves all the praise he gets. he melds his well learned craftsmanship with a gift of delivering the hard boiled tropes with a fresh and human take. Take-Out a collection of his short work with several new stories, acts as evidence for his talents, allowing you to view his story sense  in smaller models and see how he tackles scenarios.
The stories carry a common thread, some on thin technicality, of an intersection of crime and food (sometimes drink). Hart finds meals as a source of odd bonding, like the history of a relationship between and bagel shop owner and a mobster, and often as a sideways approach to weave both suspense and misdirection at the same together as he does in the final story, "Have You Eaten" (Which can be read here- https://mysterypeople.wordpress.com/2019/03/29/crime-fiction-friday-have-you-eaten-by-rob-hart/). Often, as captured in "Confessions Of  A Taco Truck Owner" and "Bhut Jolokia" it is the source of all out combat. He taps into the emotions, economics, and sociology that swirl around food and restaurant life, with stories forming a crime fiction version of Anthony Bourdain essays.
Many of the stories are also an examination of his city, New York. "Creampuff", possibly my favorite story, about a bouncer at a trendy pastry shop is a bittersweet ode to the sense of a borough's community as he pokes fun at its pretension. "Knock-Off" centers on a Time Square Elmo (or "Almo' to avoid lawsuits) who works as a drug courier and allows Hart to act as a twenty-first century Damon Runyon as he looks at the city's colorful street characters. It also serves as a prime example of how he uses the city's identifiable sites, bars, and corner establishments as benign fronts for its darker underbelly.
"Butcher's Block" can be used as a course in story craft. Nova, chef and partner in a small restaurant, finds herself in a game that is a cross between Top Chef and Saw. The M.C., "The Butcher" announces the sins that brought each contestant to his kitchen from hell intermittently as they are forced to take on cooking challenges where they can sabotage the other. Hart entwines the suspense for nova's physical survival with our curiosity of how this seeming innocent got here. Both fuel a drive to a climax and both pay off in their reveals and turn what starts out as a broad satire and makes it human.
It is that depiction of humanity that serves as a key to Rob Hart's work. It's the indelible mark in all these stories and his larger work. He uses it to provide a narrative drive that can deliver humor, believable plot reversals, horrifying violence, and poignancy all together in less than twenty pages. Food for thought.