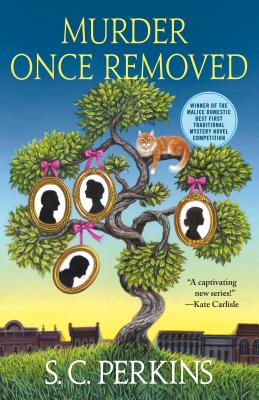 S.C. Perkins's Murder Once Removed, winner of The Malice Domestic Award, proves to be an addition to the light mystery subgenre. The protagonist, Lucy Lancaster, operates as a genealogist or "ancestry detective", giving her many inherent skills for amateur detective work. She needs to put all of them to use when the discovery of one senatorial candidate murdering the relative of his rival in 1849 sparks another murder in the present. S.C. was kind enough to talk about the series and her character.
1.      What drew you to a genealogist as an amateur sleuth?
I have amateur genealogists in my family going back to my paternal great-grandfather, so I grew up hearing stories of my ancestry. When I began thinking of a profession for my protagonist, a genealogist came quickly to mind. If you think about it, there's a built-in element of mystery of one level or another in researching anyone's ancestry—and sometimes it makes for a great murder mystery! I thought how fun it would be for Lucy (my main character) to solve some of those mysteries, and have the past affect the present. Plus, I'm a history geek, so getting to include some historical elements made it even more of a no-brainer.
2.      What do you want to explore about ancestry?
There's many fascinating aspects of researching a person's ancestry, and I'm curious about them all. Though with DNA testing and forensic genealogy coming into the news more and more, it's clear things can also get very technical or very dark pretty quickly—we're talking potentially psychological-thriller-level dark here. However, since I'm writing a cozy mystery series, I'm happy to stay on the lighter end of things to keep the fun and humor coming while still doling out interesting facts about the process of researching a person's lineage.
3.      Austin is used in a colorful way. What makes it a great city to write about for you?
One of the hallmarks of a good cozy mystery is having a small town with charm of its own, usually inhabited by quirky characters. Austin may technically be a modern, fast-moving city, but it manages to retain a small-town feel—and you can't beat it for being a place filled with all types of personalities and a fun, anything-goes mentality. Plus, Austin also has all the research facilities a professional genealogist like Lucy needs. There really was no better place than Austin for me to have as Lucy's home base.
4.      How did Flaco's Tacos become a touchstone for Lucy?
First, I wanted Lucy to have her own version of a coffee shop or a local bar where she could have a hangout of her own. And since I love to eat—and because tacos rule—it made sense for Lucy to be a bit of a taco addict. The character of Julio "Big Flaco" Medrano actually started out as a bit player in another novel, in fact, but Flaco was such fun to write and I felt he had more to offer, so giving him to Lucy as her scary-seeming, but sweet-hearted taqueria-owning friend just made sense. Plus, Lucy can drown herself in margaritas or queso (or both) at Big Flaco's Tacos, and no bar or coffee shop can offer that!
5.      You have a lot of fun with Texas culture. What do you think defines the people?
In Texas, we've got the whole Southern thing going for us, which I happen to love, but we're just enough west to have some of that Wild West spirit still running through our veins. We're as famous for our gumption as we are for our warmth and friendliness, which makes for something extra-special about Texas and Texans that the whole world knows, even if they've yet to visit. It makes me incredibly proud to be a Texan for sure.
6.      What can you tell us about Lucy's next mystery?
If all goes well, Lucy will be delving into a World War II mystery in her next adventure, and there may or may not be an espionage element. I'm very excited about it and I'm definitely having fun writing it!