Our March Pick Of The Month, Joe R Lansdale's The Elephant Of Surprise, is a non stop action crime novel with his regulars Hap and Leonard  trying to protect a girl with a lot of bad men after her during one of the biggest storms in East Texas. Joe will be here to talk about the book and sign at BookPeople on April 3rd. We got a few early questions in.
1. This is a little different from the normal Hap & Leonard. I couldn't help think of siege movies like Rio Bravo or Assault On Precinct 13 when reading it. Did you have anything particular in mind when you set out?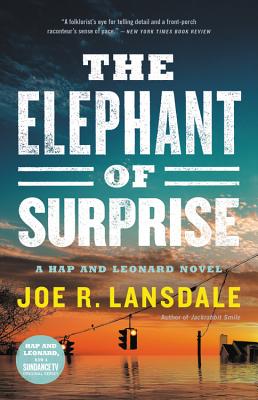 Hap and Leonard often have social issues mixed with the stories, and I wanted in this one to write something that was what I call a Momentum novel, closer to an old fashioned thriller. I love
Rio Bravo
and
Assault
, so they may have influenced me. But I have often done the "holed up against greater odds" type of story, so that seems to be in my DNA, and perhaps its from film influence. I never write with film in mind, but this one is very much an action/adventure book verses the usually casual build up that Hap and Leonard have. Though, now that I think about it, some have started off pretty wild. But it felt different to me and I had a lot of fun doing it. I don't think I'll do it on the next Hap and Leonard adventure, but it was a nice change of pace, and a nice way to leave the boys while I write stand-
alones
. I do plan to return to them. I think I have at least three more books I want to write about them.
2. I was curious since it reads so fast if it was one of your quickest to write?
You know, it did come quickly. I write pretty briskly during my three hours of work a day, but this one just jumped out. I was sometimes writing twenty pages a day. I decided to not go too far afield of a momentum story, just keep it rolling. It slows a little, but it picks up again pretty quickly.
3. Manny gets the most time she's had since she's been appearing with Hap and Leonard. What did you enjoy about writing for her?
I find Manny appealing, and I think she's becoming more and more interesting as the series goes on. Look for her to take a larger role in the future.
4. With the exception of Manny, this is basically Hap and Leonard with the rest of the recurring cast sidelined. Did it feel different with it mainly being a boy's night out?
It did, but that was the intent. I just wanted to get back to the guys and them handling action. They haven't aged as much as me, but they are in their early fifties, and it's starting to show, so I wanted to have them have this real strong, physical moment.
5. The weather is almost as much an adversary as the bad guys. What did you have do keep in mind with storm pounding down through most of the story?
It storms a lot here, so that wasn't hard. Lot of folks think it was influenced by the terrible hurricane in Houston, but I was already writing it and had that to reinforce what I was doing. I also wanted to hint at climate change, and how things unseasonable, and it also helped deal with the storm inside the characters, as well as provide a limitation of movement to make the story more viable.
6. One thing I enjoyed about the this book is that the action is non-stop. What advice would you give about writing a great action sequence?
I don't know. It came to me as is, and I didn't think about it much. I do better if I don't consider on things too much. You have to consider, of course, but I find out things as I go. There were sidelines I could have made to slow it all down, but I didn't want to do that this time out. Wanted it to rock.