I'll be very surprised if William Boyle's A Friend Is A Gift You Give Yourself is not on my Top 10 at the end of the year. This humorous and at times harrowing look at a mob widow and retired porn star who connect over a stolen Impala, a bag full of mob cash, and some very bad men is one of the most unique and entertaining crime novels in some time. Boyle steadily building his reputation and in a perfect world, this would put him over the top. Bill was kind enough to take some questions bout it.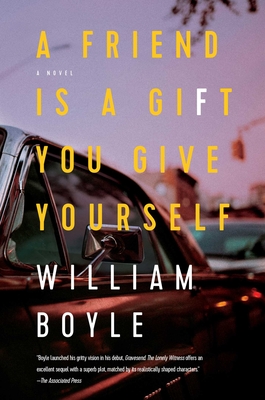 MysteryPeople Scott: Rena and Wolfstein are such unique characters. How did they come into mind for the book?
William Boyle: A Friend Is a Gift You Give Yourself started for me when my neighbor in Brooklyn told my mother and me a story about being invited over to our other neighbor's house on the corner. When she got over to his house, he put on a porno movie and made a move on her. She left immediately, rushing home to her apartment. My brain was lit up with what ifs. What if she'd lashed out at him? What if she was a former mob wife, now a widow, who had felt protected her whole life but no longer had that sense of safety? My brain went there because the apartment she now lived in, the same one I had grown up in, was where the gangster Gaspipe Casso lived for years. What if, on top of that, she was intensely lonely, estranged from her daughter and granddaughter? That's how Rena Ruggiero came to be.
The character of Lacey Wolfstein grew out of my desire to explore someone who was the polar opposite of Rena in so many ways: someone who had depended on friendship her whole life, someone who had lived hand to mouth, who had flown by the seat of her pants, who had been daring and wild and who could teach Rena to see the world in new ways. I'd always been fascinated by adult film star Lisa De Leeuw, who faded into obscurity and then disappeared, the legend being that she'd used dying of AIDS as a cover to assume a new identity and exist off the grid. I wanted to imagine an alternate history for someone like her, someone who had struggled after being spit out by the adult film industry and then thrived.    
MPS: The thing that sets them apart from most crime fiction heroines is that they are over fifty. What did you want to explore with women of that age?
WB: I love noir about older characters. Louis Malle's Atlantic City comes to mind. One of my favorite lines in all of cinema is when Burt Lancaster's Lou looks out and says, "You should've seen the Atlantic Ocean back then." It allows you to do reflection and nostalgia in a different way, to really dig deep with regret. I wanted to explore the mythology of New York City from the perspective of women who know how to survive.
MPS: Your first two novels were a bit more somber. Did you set out to write something funnier?
WB: I like depressing stuff a lot, but I wanted to write something more in line with Shane Black's Kiss Kiss Bang Bang and The Nice Guys or Jonathan Demme's Married to the Mob and Something Wild. Those films are main go-tos, and they bring me a lot of joy when I'm feeling unsure of things. So, yeah, I wanted to write something that—to me, anyway—was funny. I just didn't know if it'd be funny to other people.
MPS: What I like about the humor in the book is that it plays to the characters instead of the other way around and it is grounded in some very harsh realities in these people's lives. Can you tell us how you approach humor with the people you write about?
WB: Thanks! That's a great compliment. I don't know if I really have an approach of any kind. There's a lot of humor in the way people talk to each other, for sure. That comes from people I've known, my grandparents, my mother, all this drama in the little things. My mom's not generally a very funny person (I love her, but that's just not who she is), but one of the funniest things I've ever heard is when a light bulb blew out in her kitchen and she said, "Nothing ever works out." I laughed my ass off. My grandfather and grandmother were both hilarious. As a teenager, there was nothing I enjoyed more than coming home and have my grandfather recap what he'd watched on Mr. Rogers' Neighborhood that morning: "Mr. Rogers took us to the crayon factory today," or whatever. My grandmother was just fun and lighthearted, even when she was worried as hell. I think much of my sense of humor comes from them, this kind of mix of pessimism and joy.   
MPS: Was there a particular reason to set the story in the early two thousands?
WB: Part of the book is set in a Bronx neighborhood where I lived for a couple of years. My wife's family is all from there. We moved there in 2006. So, for practical reasons, I thought it'd be good to set the book in 2006 since I haven't been back to that neighborhood since we left in 2008. It's also a time when not everyone had cell phones yet (I got my first flip phone late in 2006), so I was glad not to have to account for that and still exist a bit in what was left of the old city: getting lost with no map, needing a payphone, whatever. The city's changed so much in the last thirteen years. It had already started before then, but things really amped up by the late aughts.    
MPS: Your mobster characters have a great feel of authenticity. How do you approach them?
WB: I was really fascinated with mobsters as a kid. Of course, I loved Scorsese movies. I read and watched anything I could get my hands on. I listened to neighborhood stories. As I was writing this book, I reread Jimmy Breslin's The Good Rat to get me in the right head space. But, ultimately, I was just making stuff up, having fun, building off of the sorts of legends I've heard my whole life.