The MysteryPeople Pick Of The Month, Trigger, is the final installment of David Swinson's trilogy featuring Frank Marr, a private detective who is also a drug addict. We find Frank trying to quit when he is given the job to help clear his former D.C.P.D. partner from an alleged bad shooting. Another part of his past comes into play when he has to work with Calvin, a young black man he mistreated when he was a cop. It is a gritty crime novel with few easy answers but a lot of humanity. David was kind enough to take some questions from us.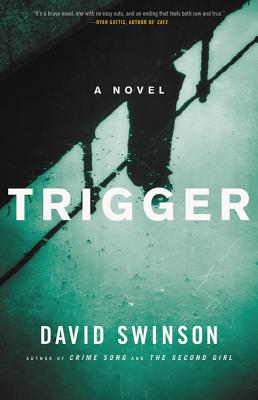 MysteryPeople Scott: Did Frank Marr's attempt at kicking his habit inform the tone of the book?
David Swinson: Yes, since it's written in first person, present tense, Frank's voice had to change. Being high on cocaine all the time hid a lot of the real Frank, and I tried to bring more of his true character out in Trigger.
MPS: In the opening chapter I felt that Frank was putting his life more at risk now that he was off drugs and what he was replacing the rush with, than when he was using. Is that a legitimate feeling?
DS: I think Frank put himself more at risk while using. He wasn't hundred percent. He thought cocaine made him one-hundred percent, but it put him more at risk, both emotionally and in certain situations like hitting a dealer's house, all because of the powerful need for the drug. Cocaine always comes first so that makes it more dangerous. He's more calculated now, even tests himself. That, and alcohol is his new high. Still risky, though.
MPS: The main plot deals with Frank getting information to absolve his former partner from a bad police shooting. As someone who is a former police officer, what did you want to convey about those situations that the media reports and debates, but doesn't fully examine?
DS: I want to show the audience that things aren't always clear cut. There is a lot of gray. I wanted to touch on that, and try to show the reality of both sides, in particular, what a good cop goes through. Also, that smartphones have changed everything because a lot of officer-related shootings are now caught on camera for everyone to see. That's not a bad thing, just like I don't think body cams are a bad thing. The difference is that smartphones catch shootings that the media wouldn't otherwise know about, and justified or not they are put out there for everyone to see. Every case is different. Some are obviously criminal, but most of them are not. It's hard for the public to understand that, though, because any shooting that involves serious bodily harm or death is a terrible thing.
MPS: I picked up more humor in this book. Where do you think that came from?
DS: Much of it came from the awkward relationship between Frank and Calvin. I also think Frank sees things a bit differently being off cocaine.
MPS: You've said these books were planned as a trilogy. As a writer what did you enjoy most about Frank Marr?
DS: Being able to write about a character that is outside of myself. Before I sat down to start writing The Second Girl, I  took tons of notes. Frank Marr was already in my head, but during the course of writing The Second Girl he took on a life of his own, changed a lot. I always knew who he'd be, but the trick while writing was to figure out how to make him likeable. That I think was the most fun.
MPS: You've had several different and varying occupations. Any idea of what you'd being doing now if you weren't a writer?
DS: Since my teens, I have not imagined myself being anything other than a writer. I knew I'd have to work a job because I wanted to pay bills, but being a writer was always there. I can't imagine not writing because it has been with me for so long – the desire. I suppose that if I didn't have the desire, I'd remain happily retired (hopefully), spending time with my family like I do now, but with more time on my hands.