Caror Potenza won the 2019 Tony Hillerman award along with a book contract for her novel Hearts Of The Missing. It also made MysteryPeople's top five reviews of the year. It introduces us to Nicky Matthews, an officer in New Mexico's Fire-Sky reservation's tribal police. When she catches a body with a heart missing it leads to a deadly conspiracy on the rez, involving money, class, and tribalism. Carol was kind enough to answer some questions from us.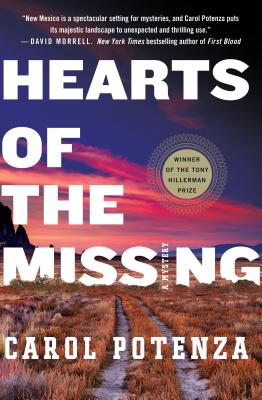 MysteryPeople Scott: The first time I ever heard of The Fire-Sky tribe was in your book. What makes their tribe unique?
Carol Potenza: After much thought, I decided to create a fictional New Mexico tribe: the Tsiba'ashi D'yini or Fire-Sky. I did this for a couple of reasons: one, I didn't know any of the individual Native Pueblo cultures well enough to select a specific tribe; and, two, I have sources on a couple of pueblos who helped me out with things like traditional practices, Native American sovereignty, and police procedures, but who preferred to remain anonymous. I wanted my protagonist to be an outsider to Native culture so I could emphasize both differences and similarities between the people in my book. In the end, I decided I'd use known elements—details I could find already published or shared, for example—from the nineteen New Mexican Pueblos, and not dig into anything these tribes wanted kept private.
MPS: Nicky Matthews is fresh take on the police protagonist. How did you go about constructing her?
CP: Thank you. That's a wonderful compliment. I think a lot of authors live in their heads. I know I do. As Nicky's character evolved, I realized I had a little bit of a "Walter Mitty" syndrome. I'd fashioned my protagonist as someone I admired, someone I wished I could be. Nicky is younger, in great physical shape, has straighter hair, and is much braver than I am. She stands up to bullies and knows what to say to them in the moment, while I always craft that perfect come-back after a confrontation is long over. She's willing to do the right thing no matter what, even if it means she might lose her job—or her life. Nicky has flaws and personal problems, too, but they've come about because her character isn't afraid to push boundaries, be fearless, expose herself.
Nicky also has "visions", something she says she'd never had until she started working on the Fire-Sky reservation. I gave her this ability because some of my contacts on New Mexico Pueblos actually saw and experienced the things Nicky sees in the novel—like the old Native woman in the glass. I used their true stories to make Nicky different from any police protagonist I'd read. And I have a lot more ghost stories to weave into my books.
MPS: You use the mystery theme of identity in a wonderful way that is tied to the culture. What did you want to explore about tribal identity?
CP: In Hearts of the Missing, I wanted to explore not what makes people different, but what makes people the same. To do that, I needed a sequestered or separated community. Living in New Mexico, I had a number of cultures to choose from—we are a minority-majority state. I chose Native American Pueblo culture because I had friends, family, and contacts who worked and lived on reservations and pueblos, and, like a lot of Americans, my family lore included Native American ancestors. Then I flipped everything on its head. I wanted my European-American heroine to be an outsider in a Native American sovereign nation. In the Tsiba'ashi D'yini pueblo, ancestry and genetics defined who an individual was. Because of her ancestry, her genetics, she will never be a member of the tribe she's come to love. Even if you'd lived on the pueblo all your life, like my Ryan Bernal character, you can't become a tribal member if you had the wrong genetic ancestry. I wanted to explore how the notion of genetic belonging could be both exclusive and destructive as well as inclusive and protective.
MPS: As a debut author, did you pull from any influences?
CP: Oh, yes. I love stories that use science in their plots, whether it's pandemics or epidemics, forensics, DNA, genetics and genetic engineering, artificial intelligence, ancient cultures, archeology, paleontology, and the list goes on. As I started to gather the pieces of Hearts of the Missing, I wanted science to play a major role. Books like Preston and Child's Relic, Thunderhead, and Fever Dream, and Michael Crichton's Jurassic Park and Congo were inspirations because they took believable science and twisted it into such amazing, complex, and satisfying stories.
Probably the biggest influence is the writing group I joined when I first decided to write, along with its members. The Land of Enchantment Romance Authors (LERA) in Albuquerque taught me how to craft an emotionally engaging story, one where the reader truly cares for the characters, becomes buried in the pages, and has a stake in the outcome. Romance writing is about emotion and character connection. I took what I'd learned from romance writing—what I'm still learning—and used it in Hearts of the Missing, even though it's a southwestern mystery with supernatural elements.
MPS: You won the Tony Hillerman Award and I felt some echoes of his work in yours. Is there anything you admire about his writing?
CP: I admire Hillerman's sense of setting and his description of the desert southwest, so spare yet so evocative. I admire the respect and fondness he had for the Native American cultures he wrote about. And I loved the way he butted cultures into each other: Navajo and whites; Zuni and Navajo; Navajo and Tano—a fictional pueblo culture in Sacred Clowns. He used the outsider/insider themes so deftly to add tension and conflict.
MPS: I noticed you have a background in chemistry and biochemistry. Can you see any way those skills are applied to the way you write?
CP: A scientific PhD trains you how to approach unsolved scientific questions. It teaches you how to gather evidence, assemble it into a coherent story, present it to your peers in the form of written, reviewed publications. It demands huge amounts of background reading and research, the linking together of sometimes-disparate ideas for new revelations. A science background dictates an understanding—at a detailed level—of how techniques work, the ability to find and tie up loose ends. It pushes you not to do derivative work, but to explore some new and unique property or direction to prove your hypotheses. Sound familiar? I think it parallels what an author has to do when writing a police procedural mystery.