MysteryPeople contributor Meike Alana has reviewed Amy Gentry's new novel, Last Woman Standing. Gentry will be in the store Tuesday, January 22nd, at 7pm to discuss her book and sign copies.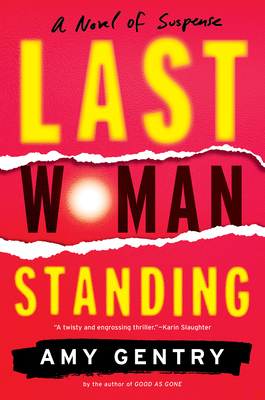 Amy Gentry wowed us with her debut novel, Good as Gone, and her latest suspense novel is every bit as thrilling. Last Woman Standing introduces us to Dana Diaz, a Latina stand-up comic from Amarillo struggling to make it in a comedy scene dominated by men and rife with sexual harassment. Dana has recently returned to the Lone Star State from LA after a split from her childhood friend and writing partner. She's grown accustomed to expect little from an industry where she's continually reminded that a woman (particularly a woman of color) has little value, but her frustrations have reached a critical point. What she has told no one is the real reason she left LA—she was drugged and sexually assaulted by a well-known comic she idealized during a meeting purported to be about discussing her future.
One night during her set she aptly fends off a vulgar heckler. Computer programmer Amanda witnesses the encounter and offers to buy Dana a congratulatory drink. One drink turns to several, and the two women bond over their shared experiences of injustice and misogyny. Soon they strike a kind of Strangers on a Train deal—each will seek revenge on the other's abuser. Revealing more would be crossing over into spoiler territory, but the ensuing plot twists make for a riveting tale of deceit and paranoia.
There is a definite #MeToo vibe to the book, and Gentry shines a harsh light on the myriad injustices that women face every single day. The novel examines the issues of sexual harassment and assault from a variety of angles, including the confusion that a victim can experience. Dana doesn't even know how to put words to what happened to her—she knows it was "bad" but doesn't initially realize that the episode qualifies as assault. When she describes her experiences to her male best friend, he's dismissive and tells her she's overreacting–an all too often experience for survivors of these encounters. As she comes to recognize exactly how deeply she's been violated, she also realizes that a long-buried event from her past qualifies as rape. When she's finally able to express her anger, Dana is shocked at the level of rage she feels as well as the violence she may be capable of. After all, there never seem to be any repercussions for the male perpetrators—so perhaps women need to take matters into their own hands.