Patricia Smiley was kind enough to write a piece for us about creating characters for her books. She'll join us in the store January 9th for a panel discussion with Matt Coyle & Puja Guha to discuss their various subgenres.
Writers are curious people. We obsess about human behavior and construct theories about what motivates it. Sometimes our stories are personal. Sometimes we use newspaper articles filtered through our own sensibilities. Sometimes we simply make stuff up. That works, too.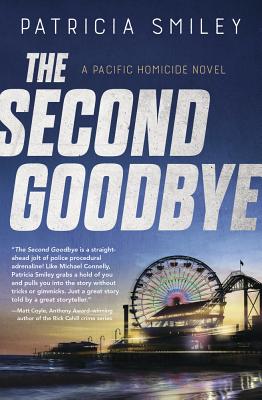 Writer curiosity is never more important to me than when I create characters on the page. Finding depth and poignancy in each one is important because I want readers to care about the people in my books. Like many writers, I create a biography for all my characters, even the minor ones, which usually includes a sociological and psychological profile, a back-story, descriptions of speech patterns, gait, quirky habits, and a history of successes and failures that drive his/her behavior.
The essences of real people I know often inveigle their way onto the pages of my novels. This is especially true for Davie, her grandmother, and her boss Frank Giordano. The gender or appearance may change, but the core attributes remain. Character inspiration isn't limited to friends and relatives. Strangers often make an impression, as well. Once long ago I was stopped at a red light on my way to work. I glanced over and noticed a homeless man on a bus bench, dressed in grimy clothing, gently brushing lint from the shoulder of his well-worn coat. That gesture was a poignant lesson I never forgot—that we can maintain our dignity regardless of our circumstances. Years later, that man's ethos made its way into the character of Rags Foster, a homeless junkie in Pacific Homicide. When I began researching the second novel in the series, I used the war in Vietnam as a plot element. I interviewed former veterans, fictionalizing the pathos of their stories to craft Outside the Wire. I used the same process for The Second Goodbye, the third novel in the series, and had particular fun with a minor character named Gerda Pittman, a comic version of a former boss.
I'm always on the lookout for characters to populate my stories. For example, several times a week, I walk to the grocery store past a few remaining post WWII bungalows dwarfed by flashy new construction. Along the route I often see a wiry older man with slicked-back gray hair, working in his front yard. I've never noticed anyone else with him. Even on the hottest days, he wears a tidy wool suit jacket that has seen better days. The jacket is dark blue with wide lapels, outdated padded shoulders, and is paired with mismatched trousers. His dress shirt is buttoned to the neck without benefit of a tie. The ensemble seems from another world, possibly Eastern Europe or the Middle East.
In this Westside L.A. neighborhood, the summer-ocean breezes once cooled the houses. But the days have become hotter, even in winter, so his front windows are often open to catch any random puff of air. The exterior of the house needs paint and repairs but the gutters along the street are clean and tidy. Many days I see him bent over, sweeping away the debris with a battered kitchen dustpan and brush. Later, when I walk home with my bag of groceries, the area is spotless and any residue that may have crept onto his walkway has been swept away. He never looks up from his task to nod or say hello. I accept his terms.
What piques my curiosity is his front lawn, which is a patch of hard-packed soil except on the rare occasion when it rains. He apparently doesn't like the look of the weeds that sprout in the aftermath, because he plucks each one out by hand until the area is once again a tidy field of brown dirt, raising all kinds of dramatic questions: Was there ever a lawn? Did the high price of water force him to let it die? Nonetheless, the compulsive weeding tells me he has a keen sense of order. I want to know the story behind his dignity and pride: where he's from and what's happened in his life that allows him to find purpose in a small patch of dead lawn.
Someday I'll answer those questions in a book. The character may not be this man. It may be a woman. Her part may be small but she'll be a metaphor for something important in the book. I'll give her a happy ending. Maybe after all she's been through she deserves that much, at least.