Puja Guha has just finished her Ahriman Trilogy that deals with a spy and assassin in love with each other as world events, government plots, and despots not only tear them apart, but often pit them against one another. Puja will be joining private eye writer Matt Coyle and police procedural author Patricia Smiley to discuss their subgenres at BookPeople January 9th at 7pm. Here she discusses what draws her to spy fiction.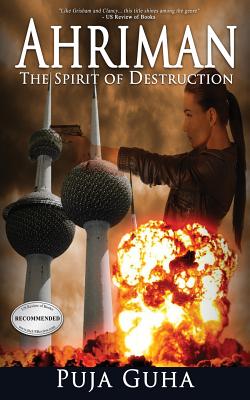 When people first learn that I write spy fiction, I get two reactions. The first is surprise, bordering on shock. How could this five-foot-three Indian woman write something like spy novels? Once they get over the fact that I'm a writer, the question that follows is, wouldn't I be better suited for non-fiction books about economics or international development? That question always makes me chuckle, since the thought of writing a book on that makes my stomach turn.
The second, and more fun one, is from those who know me a little better, or at least know about my travel schedule (especially if they know about my trip to Afghanistan a few years ago). That reaction tends to go something like this—"Oh, you write spy fiction – because you're secretly a spy!" I have to admit I love that reaction. There's something about their perception that changes, as if they start to see me as a lot more bad ass. I may not be a spy, but I certainly like to think of myself as someone who could be, at least in terms of the fun portrayal of what that life is like that we see in a lot of movies and books. Obviously, the reality is far from the action sequences of The Bourne Identity but it's fun to think that there are people like that around the world.
Perceptions aside, I love spy fiction. I grew up reading all sorts of thrillers, devouring the books off my Dad's bookshelf, including Tom Clancy, Frederick Forsyth, Michael Crichton, Robert Ludlum, and John Grisham. Spy fiction was a sizeable portion of that, offering action and adventure combined with mystery and investigation. Those books also gave me another opportunity to travel and explore nuanced characters, including the cost of deception on an emotional and personal level. I read so many of them I guess it's no wonder I ended up writing in this genre. Sometimes I use it to explore new places that I haven't gotten to visit yet, like Iran, in my first book Ahriman: The Spirit of Destruction. More often, writing spy fiction gives me an opportunity to showcase a place that I've already been—to bring readers to it, to see the sights and experience the culture, the sound, and the smells, all within a "web of intrigue". That last phrase makes me smile, I love the twists and turns that greet me when I'm plotting out one of my novels. A lot of it takes me by surprise, when the characters draw me in a direction that I didn't anticipate. Being able to share that journey with readers is something that I cherish.
In this day and age, I also relish the opportunity to expose bits and pieces of culture from the places I've visited and later write about. People have a lot of different ideas when they think of countries they've seen in the news like Kuwait, countries they often know very little about like Madagascar, or even places they may have seen a lot in TV or movies like Paris or New York. My parents gave me the travel bug when I was little, and I've taken it to a whole new level, having now visited 55 countries and counting. Certainly, a ton is different between each of these places, but at a human level, it's more incredible how much is the same. I love being able to show that to my readers when I take them somewhere new, or to expose some endearing detail of a place or culture they might not have expected. Putting that into a mystery or an adventure just adds to it, they get to have as much fun reading it as I do writing when they go along for the ride.
That's enough about me and why I write spy fiction. If you're a reader in this space, I'd love to hear from you. What draws you to it? What keeps you coming back?