When Ian Rankin brought back Rebus, the books had a feeling of old home week. The surly DI getting back with former partner Clarke and facing off with her new one, Fox (who Rankin wrote about in two books before Rebus' return) play on the idea of the history we've had with these characters and fondness for them. Even "retired" crime boss Cafferty was a welcome sight. With In A House Of Lies, Rankin takes a slightly different tact with our feelings and knowledge of these people.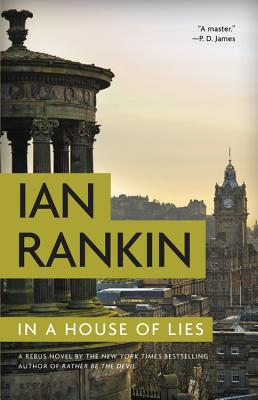 The discovery of the remains of a private detective's body in a rusted V.W. leads back to an old unsolved missing persons case where there were questions of police neglect. The fact that the ankles are handcuffed support the allegations. Clarke catches the case and Fox, with his experience in Complaints (the Scottish version of Internal Affairs), is to assist. Rebus, who worked with the cops on the missing person case becomes involved too. Soon questions arise if it's for redemption or obfuscation, particularly when we discover Cafferty is involved as well.
This is his twenty-fifth novel with Rebus, and Rankin demonstrates an ease with the characters that comes with time. He realizes how well the readers know them and their idiosyncrasies and plays with that knowledge. He executes it brilliantly in a chapter where Rebus and Cafferty meet up, and he also uses it to keep the reader off center as Clarke's investigation points to Rebus' involvement into the private detective's demise. Rankin makes it feel like we're learning something we don't want to know.
Our knowledge of Rebus and his world allows Rankin to delve into ideas about history and friendship in In A House Of Lies. The clash of Rebus old school investigating with Clarke and Fox shows how facts of the past can be rearranged from point of view, particularly in our modern times. The only thing we can put faith in is our friends, but the author has us questioning that as well.