Matt Coyle has proved himself to be one of the best when it comes to tapping into the voice of the traditional private eye novel. The mood he creates between his series detective, Rick Cahill, its San Diego setting, and emotion of the story evokes Raymond Chandler and Ross Macdonald without treading into literary nostalgia. In his latest, The Wrong Light, Coyle finds a new tone for that melancholy voice.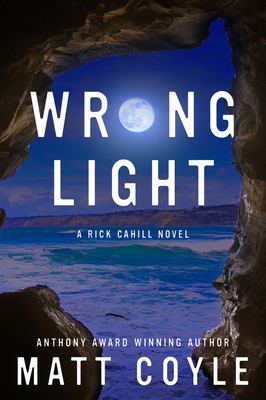 A radio station hires Nick to protect their sultry voiced evening host, Naomi Hendrix, from a stalker. As her tormentor closes in, Cahill learns of the secrets Naomi has been hiding, connected to a criminal past. Before long, he is in the middle of a deadly scam involving the FBI, Russian mob, and Irish gypsies.
Coyle develops a strong bond between, character, plot, and setting in the book. Coyle sets up an instant rapport with Rick and Naomi through the dialogue in their first meeting, that lends to his drive to help her and the possible heartbreak the job could lead to. Rick knows San Diego like the ex-cop he is and its changes reflect his age and connection to it. The book never forgets the detective moves the story. We watch every detail of Rick's job, the stake outs and surveillances through his city and the interviewing of its people. Coyle builds a separation in these interaction, giving the feeling of private detection as lonely man's work.
After the last book, Blood Truth, I was curious what Matt Coyle would do with Rick after wrapping up a major arc for the character. Right now, he seems to be a man in search of purpose, deciding to be the knight errant, tarnished armor or not. I look forward to going down many mean streets with Rick Cahill.