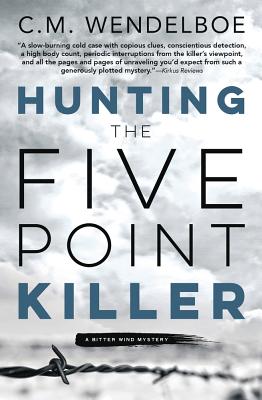 After Craig Johnson's success with the Sheriff Walt Longmire series, the western mystery has had  a renaissance. Investigations in rustic areas west of the Mississippi are proving to have an audience. One of the best newcomers in the field is C.M. Wendelbo. Our Murder in The Afternoon Book Club will be discussing the first book in his Bitter Wind series, Hunting The Five Point Killer.
The book introduces us to Arn Anderson, who retired from the Denver Police under a cloud and now works as a consultant for one of the city's news stations. When reporter Anna Maria Villareal  works on a story involving three Cheyenne police detectives, Arn is dragged back to his home town. The investigation turns up old ghosts, as well as an old flame as the killer closes in on Anna Maria and him.
Hunting The Five Point Killer is a well crafted story that delivers everything you want in the sub-genre. It has humor, characters that pop, and mines the Cheyenne setting for great effect.
It makes for a fun book to talk about and to make it more entertaining Mr. Wendelbo will be calling us to join in on the discussion.
We will be meeting on BookPeople's Third Floor, Monday November 19th, at 1PM. The book is 10% off for those planning to attend.