Lou Berney has created a stand out mix of genres in his latest, November Road. The story deals with two people who meet on the road after the Kennedy assassination. Charlotte Roy, a housewife leaving her alcoholic husband, and Frank Guidry, a New Orleans  mobster who realizes he played a part in the murder and knows the mob will want to cut loose ends. The two develop an intense relationship as they head west while Barone, one of the mafia's most efficient hitmen closes in. We got to talk to Lou about the book and mixing genres.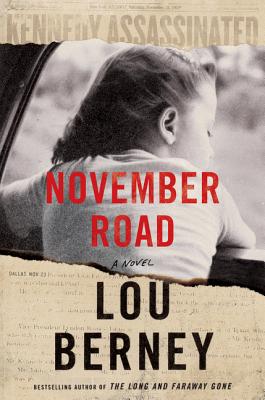 MysteryPeople Scott: November Road is a unique book. It is a mix of genres set to a particular week in history that one of the protagonist was unknowingly a part of. What was the first part of it that entered your mind and how did you build on it?
Lou Berney: The book started with the idea of two very different lives colliding – a big-city mafia lieutenant and a small-town mother. I was interested by the notion that we all play different roles, and that by changing roles we might actually change who we are.
MPS: Was there a particular reason you made Guidry cajun and not Italian?
LB: I wanted Guidry to be a little bit of an outsider – a little bit removed and more independent than your typical mob guy. And I also wanted him to have the kind of easy charm that very distinctive to New Orleans and Louisiana.
MPS: Charlotte is a different kind of character for you. What did you enjoy about her as a writer?
LB: I loved how Charlotte developed into a forceful, fearless kind of character. It was always in her, but to see it come out as the pages flew by made me happy. And I really liked her sense of humor, which developed over the various drafts. I didn't imagine that she would have a lively sense of humor when I conceived her, but she quickly informed me otherwise.
MPS: What did you want to get across to the reader about that week after the assassination?
LB: The assassination was such a detonation, a seismic event in American life. Everyone was affected in one way or another, and often profoundly so.
MPS: Barone is an interesting take on the hitman character. How did you go about constructing him?
LB: A lot of trial and error. I didn't want Barone to be a cliche. I wanted him to be a fully realized and complex character, but also one who is a scary, relentless killer. Giving him his own point of view and a character arc of his own, a key relationship with another character, made him come alive for me.
MPS: What was the most interesting thing you found in your research?
LB: The morning of the assassination, in his hotel room in Fort Worth, JFK casually mentioned to Jackie that it wouldn't be hard at all for someone to kill the president. A killer would just need a high-powered rifle and a a spot high in a building,