Helen Currie Foster's latest mystery to feature Texas lawyer Alice MacDonald Greer, Ghost Next Door, starts with her small ranch being invaded by drones and escalates when a food writer is murdered during the first barbecue cook-off her town of Coffee Creek is putting on and the killer has her sights on her. With her gal pal, Red, she is out to unravel this very fun, Texas-flavored mystery. Helen was kind enough to take a few questions from us about the book.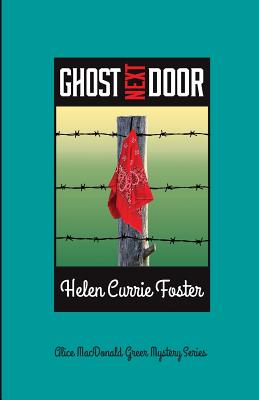 MysteryPeople Scott: With this mystery, you delve the town of Coffee Creek. What did you want to explore with that?
Helen Currie Foster: The Hill Country is beginning to change, but local flavor remains strong. The landscape itself demands character in the people: they're either dealing with drought or flood, are either baking or freezing. As Molly Ivins put it, "Texas! –land of wretched excess!"
Bland suburbanization continues its inexorable march west, but people still love places like Coffee Creek: the feed store, the post office where everyone picks up the mail, Friday night lights with the bats darting after the bugs and the PTA frying burgers and selling hot dogs…… AND big sky, live oaks, limestone, and secret springs.
MPS: What I really enjoyed about the book was the relationship between Alice and Red. Where you wanting to say something about female friendship?
HCF: Alice knows she'd never have moved to Coffee Creek, much less begun to belong there, without Red. Red's a long-time friend who lured Alice (at the lowest point of Alice's existence) out to Coffee Creek to start over again. Alice loves Red because Red speaks truth, declines to put up with any of Alice's introverted angst, and honors her own deep Texas roots. Red has Alice's back; Alice has Red's. Red's game for adventure, even (or especially) for danger. She also says yes to frivolity. Alice knows she needs Red. Alice's friendships with Red (and Miranda) are crucial to her survival.
MPS: Cooking, especially barbecue plays a big part in the story. Did you do any kind of research for this?
HCF: Oh, yeah. A lifetime of research. I'm deeply competitive when it comes to brisket. So competitive that, unlike in Ghost Dagger, where I did share a character's recipe for Scottish pastries, I didn't share the character M.A.'s recipes in Ghost Next Door for the dry rub or the mop she uses on her prize-winning brisket, or for the secret technique that keeps it juicy and not burned on the bottom. Like many others, I've spent decades pursuing the perfect brisket, whether mine or someone else's. An all-time best was the brisket taco with the "green sauce" from a food truck on the courthouse square in Fort Davis…EPIC. I will share the recipe for that green sauce on the website.
As to the Coffee Creek Cook-Off, the town adapted the actual Lone Star Barbecue Society Rules.
MPS: One of things that makes your books work is how even characters that are just on a few pages pop. Do you have an approach in writing every person Alice encounters?
HCF: Yes. Even when characters get bit parts, they play an important role in the plot. Alice pays attention to them, watches them, listens to them. She picks up key clues from them. So they must be as alive, as vivid, as any main character—but they have less time to make that impression!
Characters reflect people I've met, worked with, been scared of, been enchanted by. Real people. Like the south, the southwest revels in its characters. The guy at the garage, the old man who loads hay at the feed store, the plumber planning to start a commercial venture with marijuana, the clerk at the post office—they revel in their independence, they expand into their own stories, they're comfortable in their own skins. They don't try to look like everyone, or talk like everyone.
MPS: As a writer, what has made Alice a character worth coming back to?
HCF: Great question. Alice isn't perfect. She's insecure, introverted, critical. And she's driven. As a lawyer she feels absolutely compelled to finish what she signed on for, what her clients need done. She's sometimes short-tempered and hasty, because she's infuriated by people who try to intimidate her or her clients. I admire her strong sense of justice. And you know, Alice loves mystery novels…I have to admire a fellow mystery-lover.