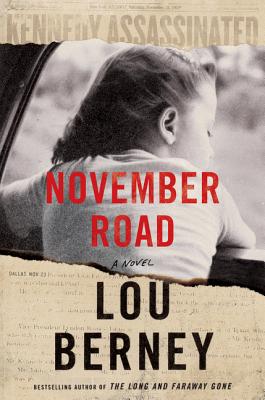 Lou Berney's third book, The Long And Far Away Gone, proved him to be a major talent. He took two poignant mystery stories, tied them through theme, and deftly examined his characters through use of the detective story. With his latest, November Road, Berney uses the gangster thriller, tying two souls together through an American tragedy.
The story unravels the week after the JFK assassination. Frank Guidry, a Cajun fixer for New Orleans crime boss Carlos Marcello, realizes the murder is tied to the car he was asked to drop off at Dealy Plaza. Knowing he is a loose end Marcello has to cut, he hits the road to Vegas where Carlos' rivals may help him.
Along the way, he meets Charlotte Roy, whose car has broken down. Charlotte took her two daughter and the dog and left her alcoholic husband. She yearns to make a life where she is more than a housewife. Guidry offers to drive all of them to California, since they will provide great cover. The situations both are escaping and the time on the road leads to an intense relationship, while a mob hitter, Barone, closes in.
Berney plays the plot, period, and each character like  jazz instruments in a melancholy ballad. We spend several chapters with both Guidry and Charlotte so we understand who they are and where they are coming from. Both want the exact opposite of what the other wants, yet embody that desire of the other. The relationship is both believable and bittersweet. The fact that it takes place during a national tragedy lends to the emotions. it also reinforces the story's theme of fate. Berney looks at how each character faces fate and asks if it can be shaped. He then has Barone turns up in chapters like a steady beat of death growing faster faster. Berney even creates him with care, presenting something more than just a cold professional killer.
November Road is a thriller that taps into honest emotions that enhance the crime thriller it presents. By tying his characters into the JFK assassination, Berney examines loss, evolution, and human connection. In a way it becomes a reverse Casablanca, saying the lives of two people do at least mean a hill of beans. However, there is still an understanding of needed sacrifice.