Melissa Lenhardt's Heresy is a smart and fresh take on the western outlaw tale. Several different women from several backgrounds escape the lot post-Civil War life on the frontier has cast them and become outlaws, dressing up as men and conducting well executed robberies. Told through diaries and interviews with historians, Heresy is western shoot em'up with poignancy as it examines "herstory" and female friendship. Melissa will be joining Reavis Wortham (Gold Dust) at BookPeople on October 9th to sign and discuss their books. We were able to get some questions to her early.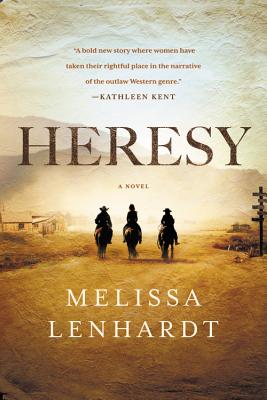 MysteryPeople Scott: Heresy is such a unique story in so many ways. How did it come about?
Melissa Lenhardt: The simple answer is I saw the trailer for the Denzel Washington version of The Magnificient Seven and while being impressed with the diversity, I wondered why they didn't go a step further and include women. Which of course led me to say, I'll write an all-female version. The long answer is that during my historical research for Sawbones, the lack of historical information about women and their experiences was glaring. I wanted to write a book that compared women's versions of historical events with the official historic record, and in doing so challenge the idea that women were bystanders and played a very little part in the creation of America.
MPS: How did the choice of using diaries and interviews to tell the story come about?
ML: I assumed I would write the story from one point of view as I did with Sawbones. I realized pretty early on that wouldn't work. There were too many characters, too many points of view that needed to be shared to tell the full story. By staying firmly in one point of view I would be doing to my marginalized characters – a former slave, a woman struggling with her sexuality and her place in the world – what historians have done with women writ large. So, I knew I had to have multiple points of view. I chose to tell the female points of view through journals and an oral history because that is how women's history is discovered. Of course, I had to have the "official record" as well, to highlight how the truth of a thing is manipulated into myth.
MPS: Did it present any challenges in the storytelling?
ML: Lord, yes. This book was technically the most difficult book I've ever written. Telling one story from three divergent points of view, with one told fifty years later, was a challenge in and of itself. Making sure the timeline worked across all versions, but also allowing for different perspectives, different memories, without confusing the reader with too many contradictions. When I finished I thought, "That sucked. I'm never doing that again." But writing something that challenges you, that pushes you to your creative limits is a bit like childbirth. You swear you'll never go through that pain again but then you hold your baby in your arms and think, "Yeah, it's worth it."
MPS: I enjoyed the fact that the robberies had more of a heist feel than just running in and shooting like a lot of other western bandits.
ML: Before I started writing I thought it would be more of a heist book, like Ocean's Eleven in the Old West (this was before Ocean's Eight was announced as a movie). But, my mood and the mood of the country changed drastically six days after I wrote the first word and I knew that I couldn't tell a lighthearted story. It just wasn't in me. There was a moment in time when I thought it was going to be about vengeful women cutting a swath of destruction across the West. That idea was way too on the nose for this era. I found a happy medium, I think, in the final story.
MPS: Were there any books and movies in your mind when you were writing it?
ML: It was pitched as Thelma and Louise meets The Magnificent Seven, so those two, obviously. The Magnificent Seven in an obvious way, a gang trying to right a wrong and the final big battle between the good guys and bad. But, I think Thelma and Louise is the bigger influence on Heresy. Thelma and Louise are running from a patriarchal system that is trying to catch them, to control them, a system that will judge their reactions to assault more harshly than the assault itself. Along the way, these two very different women become platonic soul mates, two halves of the same whole. Neither could survive without the other. Friendship, loyalty, and family in its purest form. I wanted to capture that platonic love with Garet and Hattie's relationship. Really, the entire book hinges on it. Thelma and Louise is the greatest platonic love story ever told, and I strove to capture that essence in Heresy.