Edwin Hill's Little Comfort introduces us to Hester Thursby, a librarian who uses her research skills to find missing persons as a side hustle. Her latest job has her dealing with family secrets, false identities, and more than a few gunshots. Mr. Hill , who will be with Scott Von Doviak on September 22nd at 6pm at BookPeople, was kind enough to take some of our questions  in advance.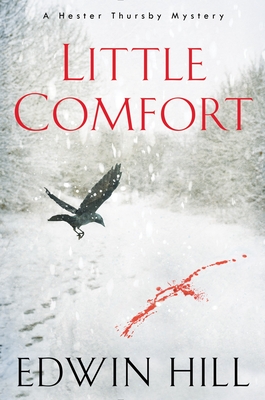 MysteryPeople Scott: How did Little Comfort come about?
Edwin Hill: Do you remember the Clark Rockefeller case? He was that guy who claimed to be a member of the Rockefeller family and married a successful business woman, and then went on the run with his daughter when everything unraveled. And it also turned out he'd murdered people.
I was fascinated by that story, and one day when it  was all over the news I sat down and wrote a scene about a guy who'd been impersonating someone (I wasn't sure who) and needed to leave town. The character's name was Sam (no last name) and I knew I wanted him to be a sort of Tom Ripley-like antihero. Like Clark Rockefeller, I also knew I wanted him to be someone who could charm his way into any situation. But that's all I had, and that scene sat on my computer for about two years before I did anything with it. Once I started working in earnest, I added in a foil for Sam, and the protagonist, Hester Thursby, was born. Hester is a librarian at Harvard's Widener Library who finds missing people as a side gig, and her case in this story is to find Sam. Sam doesn't want to be found, and things go downhill from there!
MPS: I also have to ask how you came up with your protagonist's name, Hester Thursby? It is almost from another era.
EH: When I am drafting a novel, it's really easy for me to get distracted by, well, anything, so I name characters very, very quickly – otherwise I can lose hours "researching" on baby-naming websites. I'll name characters after friends' pets or people I know or just random names that come to me in a flash. Some of these names stick, and others I change later on in the drafting process. (For example, I wound up using the name Sam Blaine after my friend's beagle.)
When I came up with Hester as a character, I didn't know much about her besides that she was a single woman with a child so the first names that flashed through my mind – and this is so pretentious it makes me want to throw up in my mouth – were Hester, for the woman, and Pearl, for the child. I quickly (and I mean the next day) changed the girl's name to Chloe, and then changed it again to Kate. I liked the name Hester, though, and it stuck.
When I first started drafting the series, I thought it would be lighter than it wound up being, and I played around with titles based on movies. One of the titles I considered was His Girl Thursby, and Hester's last name was born. Of course, Little Comfort wound up being much darker than I planned, a psychological thriller rather than a traditional mystery, and the title no longer fit. But, again, I liked the full name of Hester Thursby and decided to keep it! (A few people have asked if Thursby is in homage to Floyd Thursby in The Maltese Falcon. Alas, no. Just a happy coincidence.)
MPS: The book deals with the past's relationship with the present. What did you want to explore in that idea?
EH: There are three main characters in this novel: Hester, Sam, and Sam's best friend, Gabe DiPursio. They are each haunted by things that have happened to them in the past, but they all choose to move forward in different ways. (For more on that, see this terrific review on BOLO Books. 
Some of the people in this book do really terrible things to other people, but I didn't want that to be what this book was about. I wanted to be sure to separate the action of the character from the humanity of the character. Every person on earth has something good and worthwhile at their core, or at least that's what I believe. When I focus in on that good, it makes the contrast of terrible actions and decisions all the more powerful.
MPS: This being a debut, did you draw from any influences?
EH: Sure!  Like most writers, I read all the time. One of the influences for this book is Patricia Highsmith's The Talented Mr. Ripley, but there are other influences as well. When I first wrote that scene I mentioned above, the one with Sam escaping town, I happened to read Kate Atkinson's Case Histories. I was inspired by the way she mixed genres – mystery and literary – and was able to infuse so much humor into the Jackson Brodie series. She also really tore apart the structure of a "mystery" novel and made it something completely unique. I'm inspired by the humanity in Louise Penny's Inspector Gamache series. One novel that I read regularly (maybe because it's short!) is The Prime of Miss Jean Brodie by Muriel Spark. She is such a craftsman, and is able to move through time so effortlessly in that novel. I like to read it to remind myself what's possible.
MPS: You'll be doing an event with us on the 22nd with Scott Von Doviak and another Boston native with a book set there. There is rich tradition of crime writers from your city, Lehane, Parker, George V. Higgins. What makes Boston great for crime fiction?
EH: I think there are a lot of reasons. Boston is a beautiful town filled with iconic landmarks, to start, which always makes for good storytelling. Scott, for example, makes great use of Fenway Park and the Back Bay area of Boston in his novel. Because his novel is set in three distinct time periods, he's able to pull in many of those sites and neighborhoods, like Dewey Square, that have changed with city. Those details give his novel a fantastic texture.
New England has a varied landscape too, going from urban to rugged very quickly, which is one of the things I use in Little Comfort, where much of the action takes place in rural New Hampshire in the depths of winter.
MPS: What do you think is the biggest misconception of the city?
EH: When I think of Boston in the media, I think of crime (The Town), education (The Paper Chase), and rabid sports fans (Fever Pitch). But like most places, Boston has many sides.
One of the reasons I set Little Comfort in Somerville, was because it shows a different part of the metro area. Somerville (which used to be nicknamed Slumerville) is diverse, with people from all different backgrounds. It's vibrant, and a very accepting and open community. And like many urban areas in the country, like Austin, Somerville is experiencing a boom, which is creating tensions between older residents and the new people moving in. I hope to explore that in a later book in the series.
At the same time, Somerville also has many of the elements that people think of when they think of Boston. It's right next to Cambridge, so you still feel the glow of Harvard, but with a bit more grit. Whitey Bulger's Winter Hill Gang was named for a neighborhood in Somerville. And the Boston Garden and Fenway are each only a T ride away. So maybe there is some truth in those media images!