Scott Von Doviak's Charlesgate Confidential is a one-of-a-kind read, with three storylines of different periods in Boston's Charlesgate building that affect one another. Von Doviak binds them together with a liberal use of the city's history and lore. Scott will beat BookPeople along with Edwin Hill (Little Comfort) Saturday September 22nd at 6pm to discuss and sign their books. He was kind enough to take some questions from us earlier.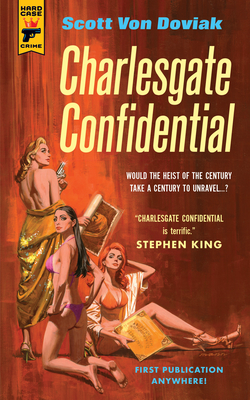 MysteryPeople Scott: Charlesgate Confidential  is a very unique book. How did the idea for it form?
Scott Von Doviak: Several ideas came together. I'd been wanting to write about the Charlesgate building in Boston for some time, both because of its fascinating history and because I'd actually lived there in the '80s when it was an Emerson College residence hall. I wanted to come up with a story that could encompass several different eras in the building's history, but I also wanted to write a crime novel rather than a ghost story (which would have been the obvious way to go, given the building's haunted reputation). Incorporating a fictionalized version of the Gardner Museum heist solved some problems, especially once I decided to move the heist back in time from 1990 to 1946. I really liked the idea of telling the story in a nonlinear way, by rotating through these time periods, sort of like solving a Rubik's Cube twist by twist. At first you wouldn't see any connection between the stories aside from the building, but as you go along, all the pieces slide into place.
MPS: How did you handle juggling the three time periods?
SVD: I didn't have a spreadsheet or a True Detective wall with note cards and string or anything like that. It was all pretty intuitive. It was more fun that way because I would leave myself a little cliffhanger at the end of a 1946 chapter and then I'd move on to 1986 and 2014, which would give me time to think about what should happen next back in the '40s. The way the time lines dovetail was kind of tricky, because I had to time all the revelations just right and make sure I didn't give certain things away too early. So there was some trial and error involved, but that made it exciting for me.
MPS: Was there any Boston history or lore you wanted to get in there but couldn't?
SVD: I considered some other things, notably the Coconut Grove fire in 1942, but in the end I felt like I had enough for this story. I flirted with incorporating the Red Sox 2004 World Series run, but that would have felt like overkill. There's certainly plenty to explore, though. I don't know that I'll ever write a sequel, since this novel is very self-contained, but one idea would be to explore some different eras in the Charlesgate's history, which stretches back as far as 1891. I'd need a good story to pull it together, though.
MPS: So many great crime novelists come from Boston like Robert B. Parker, George V Higgins, and Dennis Lehane. What makes the town such a hotbed for crime fiction talent?
SVD: Well, the city does have a noir-ish quality, particularly in the fall when the temperatures drop and the nights get longer. There are plenty of famous crimes and criminals—the Brinks Job, the Boston Strangler, Whitey Bulger. But I attribute most of it to Higgins. The Friends of Eddie Coyle is the ultimate Boston crime novel (and movie), and along with his follow-ups Cogan's Trade and The Digger's Game, really set the template for Boston as a crime town teeming with colorful characters. Higgins was a huge influence on Charlesgate Confidential, particularly the way in which story and character emerge from dialogue in his books.
MPS: What is the biggest misconception about the city?
SVD: Well, first of all, not everyone has that accent! I think our pop culture has become over saturated with one particular slice of Boston. You'd think everyone who lives there is either a criminal or an obnoxious sports fan, and sure, there are plenty of those. The friends I still have there are nothing like that, though. They're artists and professionals and they don't sound like Casey Affleck in that SNL Dunkin' Donuts sketch. I confess, though, I do love the accent (maybe because I don't live there anymore) and I'll have a hard time not lapsing into a bad version of it during my reading.
MPS: What are you working on now?
SVD: I have a few things in various states of completion, and I'm not sure exactly what comes next. I definitely want to stay in the genre, and one thing I'm working on would be a series of books set in Austin that would sort of chart all the changes that have been going on here through the lens of crime fiction. I don't know whether that's my next project, though—a lot depends on how things go with Charlesgate Confidential. Meanwhile, you can still find me at The Onion's AV Club writing about your favorite (or maybe not so favorite) TV shows.