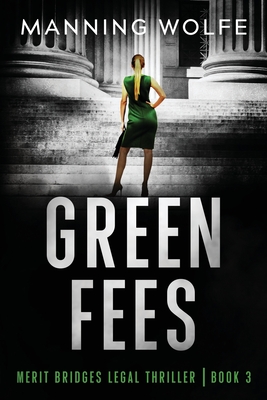 Austin attorney Manning Wolfe has brought her considerable legal expertise to the crime fiction genre, and the result is a smart, fast-paced thriller series featuring Texas Lady Lawyer Merit Bridges.
In her latest, Green Fees, Wolfe spins a story of lies and treachery that reflects the perfect blend of humor and chills.  Austin is terrorized by a serial killer named The Enforcer who continues to elude law enforcement, but Merit is distracted when her predilection for younger men leads her to  become involved with the much-younger golf pro Mark Green. When Mark accepts help to pursue his PGA dreams, he becomes indebted to the wrong person—Russian loan shark Browno Zars—and comes to Merit for help. She uses every legal trick she can think of to loosen Zars' grip on Green, not realizing that her actions have brought her to the attention of The Enforcer. As she's captured and held against her will, facing certain torture and death, Merit has to dig deep within to confront pure evil.
The award-winning Wolfe strikes all the right notes with this series. Merit is surrounded by complex, relatable characters–like Betty, Merit's colloquialism-spouting, Ann Richards-hairdo sporting office manager. Merit is mostly serious (she has an illustrious legal career and is a devoted mother to her dyslexic son Ace), but she also knows when to let her hair down and just go after that young man while sipping on some fine red wine. There's a satisfying variety of characters that operate on all points of the spectrum spanning right and wrong. And as a bonus for those of us here in Austin, Wolfe's deep love for the city shows in her meticulous and glowing descriptions of our town's scenery.