Some authors I interview, including one I'm questioning later this month, write a novel after a career with no connections to the publishing world.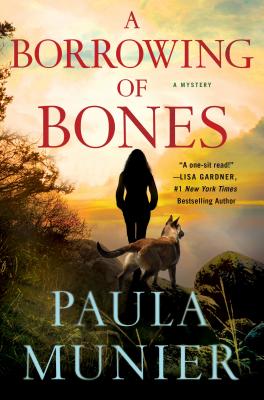 That's not the case with Paula Munier, who has written advice columns for other writers, worked as a literary agent and had other jobs related to publishing before writing this new novel, the start of a series. Paula, also a former journalist, also wrote or co-wrote more than dozen books.
As befits an author in the industry, even the story on how this book came to be is a good yarn, as you can read in the interview.
Paula was kind enough to let me interview her about this engrossing, engaging new book, A Borrowing of Bones, about soldier Mercy Carr. Mercy lives with Elvis, a bomb-sniffing dog who belonged to her fiancé, Martinez.  Martinez got killed and Mercy got shot while serving overseas. Martinez's last words to Mercy were "Take care of my partner."
As the book begins, Mercy and Elvis are in Vermont on a hike when they come across human bones and an abandoned baby. They work with a game warden, Troy Warner, and his search-and-rescue Newfoundland, Suzie Bear, as this discovery takes them in unexpected places.
Scott Butki: How did this story come together?
Paula Munier: I was writing a book for Writer's Digest Books called The Writer's Guide to Beginnings. And I needed a first chapter of a novel that I could use for exercises over the course of the book. While I was using a lot of short opening snippets from celebrated works, I couldn't use one of those for this. So I needed to write one of my own. I had just been to Leo Maloney's fundraiser for Mission K9 Rescue, a wonderful organization that rescues bomb sniffing dogs from bad situations. Many of these working dogs are not Army dogs, but are rather procured through defense contractors, and when they come home they are often abandoned in shelters.
Meeting all of these dogs and their dog handlers was wonderful. I'm grateful to Leo—a fabulous thriller writer, by the way—for allowing me to meet these great dogs and their handlers. Soldiers and bomb sniffing dogs, as well as law enforcement and their working dogs. I feel in love with the dogs and the handlers, and so when I had to write this sample chapter, I figured I'd write about these dogs and handlers. Never dreaming that this sample chapter would become the first chapter of the first book in my new mystery series.
Scott: Which came first for you, the characters or the plot?
Paula: First came the dogs. I based Elvis, the sniffer dog, on a Belgian Malinois that I met at the fundraiser. I based Susie Bear, the search-and-rescue dog, on Bear, the sweet Newfoundland Retriever mix we rescued a couple of years ago. I also wanted to write about a veteran, having grown up in the military and having enormous respect for our military men and women. And I wanted to write about a game warden and the forest in Vermont, because I love game wardens and I love Vermont. At the time I had no intention of making this opening into a novel, so I just made up anything I wanted.
Scott: Was the plan, when writing this, always for it to be the start of a new series or did that thought come later?
Paula: As I've explained, there was no thought of a book, much less a series, at the beginning. That said, my agent read The Writer's Guide to Beginnings in manuscript and said, "Boy, I like that chapter, you should keep on writing that." Once she said that, I knew I had two great series characters in Mercy Carr, the female veteran, and Elvis, the Belgian Malinois sniffer dog. So I dreamed big.
Scott: I take it, considering you also wrote about dogs in Fixing Freddie and other books, that you're a dog person. What do you think is the best way to have dogs be characters in books?
Paula: There are so many ways to write about dogs. In novels, dogs can be part of the family, dogs can be part of the plot, dogs can even be the protagonist. In a book like The Art of Racing in the Rain by Garth Stein, the dog is the point of view character. In Spencer Quinn's Chet and Bernie series, Chet is also the point of view character, the sidekick and smarter half of the private investigation team, supposedly headed by Bernie.
There are all kinds of dogs and all kinds of dog books, and I tend to love them all.
Scott: How did you go about researching this book?
Paula: I started with Mission K9 Rescue, and working dogs and their handlers. I talked to lots of people in Vermont, and of course I went to Vermont, which is one of my favorite places to go anyway. I talked to dog trainers and game wardens and security experts and explosive experts, and both active and retired military and former law enforcement. I met the dogs and I met their handlers, and I met with the people who work with these dogs and train them as well. Bear and I did our obedience training with a fabulous trainer who also trains dogs for search and rescue as well as law enforcement.
I also read anything and everything I could about working dogs and dog handlers, from Roger Guay and Kate Flora's A Good Man With a Dog (a memoir about Roger's time as a game warden in Maine and the dogs he trained to help him do his work) to Sergeant Rex, which is a true story about an amazing sniffer dog.
Scott: Where did the idea come from to have the book published on 9/11?
Paula: That was the publisher's idea. I had nothing to do with that. That said, one of the things I wanted to do in writing the book was to honor all working dogs and their handlers. And the book is dedicated to them, as well as to my father, to whom I attribute my love of dogs.
These dogs and their handlers do military and law enforcement work, but they also are often first responders, doing search-and-rescue and recovery. Good work and in honoring this work, I hope to honor all such efforts, from 9/11 and beyond.
Scott: What do you hope readers will take away from this book? Did you want them to learn that animals can have PTSD?
Paula: First, I wanted to tell a good story. But I also wanted people to understand the length working dogs and their handlers go to in the name of keeping the rest of us safe and secure. I do think it comes as a surprise to many that animals involved in this dangerous work may suffer from PTSD. I think it's good to know. When they retire, they need patience and care and love in safe forever homes.
Scott: How has your prior work in journalism, literary and publishing fields, helped you in writing this book and getting it published? Can you talk about some of your jobs in those fields?
Paula: I started off as a reporter a million years ago, and went on to write and edit for magazines and newspapers. I got my first job in book publishing as a managing editor on the production side, and then went on to a career in acquisitions. Acquisitions editors are those editors who acquire projects for publishing houses. Over the course of that time, I did a lot of writing and editing and acquiring and developing book projects, etc. I loved every minute of it. Eventually my own agent, Gina Panettieri, founder of Talcott Notch Literary Services, asked me to join her agency. Being an agent was something I'd never considered doing. But I have to say, it's my favorite job of all.
All of my experience as a writer and an editor and a publishing executive really help me an agent and an author, if only because I understand everyone's perspective at the table. I think the most important things I learned along the way were the elements of storytelling and the nuts and bolts of publishing. And I suppose it taught me patience if nothing else, because I learned firsthand how protracted the process can be—that is, going from word one to books in stores.
I also learned through working for Disney and WGBH and other media companies that there are lots of ways to tell a story. When I first started out as a writer and a reporter, I thought of writing really as wordplay, not as drama. I had to study how to dramatize scenes, and learn to tell stories in scenes. Which has been of course essential for me as a novelist.
I'd advise anyone who wants to become a writer to explore all avenues and all formats until they find their sweet spot. It took me way too long to figure out that dogs are my sweet spot, although the signs were there all along.
Scott:  What's it like getting early praise from such masters as Lee Child and Lisa Gardner?
Paula: I have been blessed certainly and honored by Lee Child and Lisa Gardner and lots of other fabulous writers who have supported my work early on: not just Lee Child and Lisa Gardner, but also Hallie Ephron, Hank Phillippi Ryan, William Martin, Jane Cleland, Spencer Quinn (aka Peter Abrahams), Larry Kay, among others.
As I told Lee Child, I'm going to have his review of A Borrowing of Bones – "a compelling mix of hard edges and easy charm" — engraved on my tombstone. Or maybe tattooed somewhere.
Scott: What are you working on next?
Paula: I'm at work on Book Two in the Mercy and Elvis series right now, which everyone says is the hardest book you'll ever write. Let's hope I get through it.
Thank you so much for inviting me to chat about A Borrowing of Bones. It's been lovely!