George Pelecanos has become one of the top humanist authors when it comes to crime fiction. His ability to link the believable emotions of his characters to ours and represent his working class folks with dignity makes a true poet in the genre. His latest, The Man Who Came Uptown is a fine example of this.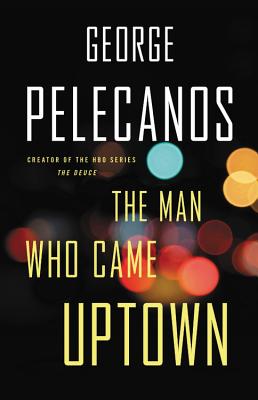 He gives us a protagonist who can go in several directions. Michael Hudson, a small time crook, awaits his trial in jail. As a way to pass the time, he develops a a love of books with help from the librarian, Anna Kaplan. Michael's case is thrown out, due to Phil Ornazian, a PI for his lawyer. Michael wants to work at his restaurant job, figure out a good straight life for himself, and read. Ornazian has other plans for him. The detective has a side hustle of robbing pimps and dealers and wants to put Michael to use a a getaway driver. If Michael doesn't do as he's told, Ornazian can put him back in jail. As Michael struggles to find a way out, he develops an awkward relationship with Anna.
Pelecanos has his characters and situations unfold in a very real yet dramatic way. He avoids any of the standard ways this story would move, searching for the quieter moments in tale and unearthing them like precious jewels. He explores honest, human connections, and feelings like Michael's pride in finishing a day's work or Orzanian's time with his wife. We see both the sinner and saint in his players, making the lives precious during the violent moments and tragic when it is snuffed out. Even those moments are played down, yet they are no less direct and brutal. It is simply part of the dance these people have found themselves in.
Some of the most moving parts in the book are when Michael reads. Pelecanos captures how reading develops a point of view as he interacts with Carpenter's Hard Rain Falling, an Elmore Leonard western, and others. He shows the quiet beauty of escape the act performs. You also get a lot of great book suggestions.
The Man Who Came Uptown has both grit and heart. Its characters struggle for a better life as they see it, some with misguided tactics. Many of their dreams aren't lofty, yet are worthy. Pelecanos finds the value in all these people, mainly through their most intimate moments.