In Amy Stuart's second novel in a series, Still Water, we follow Clare O'Dey, a private investigator, as she tries to find Sally Proulx and her son, William after their disappearance. This is a novel full of twists about a town full of secrets and behind the secrets are still more.
Amy Stuart agreed to do an email interview for her new book. Her first book was Still Mine.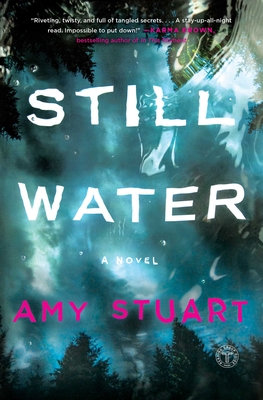 Scott Butki: How did this story develop?
Amy Stuart: Still Water is a "sequel of sorts" to my first novel, Still Mine. A couple of the characters continue on in the second book, so to some degree the story developed out of the ending of the first book. I wrote Still Water with enough backstory in place so readers could start it without reading my first novel beforehand. The idea behind Still Water was to create a second missing person case that my protagonist, Clare, could tackle now that she's got a little more experience under her belt.
Scott: Which came first, the plot or the characters?
Amy: Because this is a second book, the characters arrived on the page before the plot did. I had a general sense of where I wanted to take them, but the characters played a large part in shaping what happened in this book. As a writer it's a very interesting experience to start a new novel with some familiar faces on hand; to some degree, you are forced to let them guide you through the story. I loved that.
Scott: Should readers read the first book in your series before this one?
Amy: Not necessarily! I've heard from lots of readers who read the books in order, and others who read Still Water as a standalone, and still others who read Still Water first then returned to read the first book as a sequel. I'm not about to tell readers how to best enjoy the books and I'm thrilled that they've found different ways to do so. That's a writer's dream.
Scott: How would you summarize the plot and the main characters?
Amy: Still Water follows Clare as she arrives in a place called High River to search for a woman – Sally Proulx – and her son who've gone missing. Clare immerses herself in the town, posing as a friend of Sally's, but what the people of High River don't know is that Clare works for a man named Malcolm Boon and this is her missing person second case. What Clare doesn't know is that Sally's disappearance is tied to High River's long and dark history and that everyone she'll meet is somehow involved.
Scott: The book involves, among other things, lots of secrets, including women on the run from abusive husbands. How did you go about researching things for this book?
Amy: The most important thing for me in writing a novel like this is to authenticate the characters and their life stories and to make their reactions and personalities complex enough for readers to really get what they've been though. To research, I try to read a lot of case stories and firsthand accounts from women with similar experiences. I think when you're taking on difficult issues in a book, you have a responsibility to get it as right as you can.
Scott: How does being an English teacher at an alternative high school help (or hurt) your work as a writer?
Amy: I've always found teaching to be a great antidote to writing; whereas writing is very solitary and inward, teaching is the exact opposite – social, outward. It's such an honor to be able to convey my love for reading and writing to young people. But as my books move out into the world, I've found it harder and harder to strike the balance between two careers, so I've been moving away from full-time teaching. I can't imagine a future where I'm not teaching in some capacity, though. I feel lucky to have true great passions in teaching and writing.
Scott: What do you want readers to take away from this story?
Amy: It means a lot to me that readers can see my characters grow and change over the course of a book, but that their growth feels authentic and plausible. I want my readers to feel that even the most flawed characters deserve redemption. I hope that my readers see how much I invested in my characters and the story when I was writing it.
Scott: Was it a coincidence, this coming out during the #MeToo movement, or did that movement play a role in your writing this book?
Amy: I was writing this novel just as the #MeToo movement was taking shape, so it was definitely in my head as the words were hitting the page. It felt particularly important to me to give the women characters a voice and the chance to emerge from their hardships with strength and resilience. I don't see my novels as a form of social commentary, but I do want them to reflect my view of the world.
Scott: What are you working on next?
Amy: I'm back with Clare and Malcolm working on the next book in the series. Furiously! I can't wait to see where they go next.