Joe Lansdale has written several short horror stories featuring Dana Roberts, an investigator in the supernatural. Later on his daughter Kasey joined him on the stories that have Dana team up with her character, Jana. They recently released a collection of all the stories, plus a new one in Terror Is Our Business. Joe and Kasey will be at BookPeople August 23rd at 7pm to discuss and sign the book. We got to ask them a few questions early about working on the stories and together.
MysteryPeople Scott: How did the character Dana Roberts come about?
Joe Lansdale: I was reading some old style ghost stories, and stories involving psychic detectives like Carnaki, Jules De Grandin, John Silence, thinking about The Nightstalker TV show, and I thought, you know, I'd like to write something like that, but in the older more "sober" tradition, as that wasn't commonly in my wheelhouse, so I wrote a couple stories about a modern supernatural detective, she calls herself a detective of the Supernormal, meaning that she believes all things have a rational and scientific answer, even if we don't know what it is yet. She's a bit stiff as a character, in the old tradition, and I liked her quite a bit. I think both of the original stories were picked up for Best Horror of the Year, and I thought, okay, that's it. But I had the urge to write a couple more, and did, one for an anthology Kasey edited titled Impossible Monsters. Later on, Kasey and I wrote a story together for a Chris Golden anthology, and Jana was born. She didn't have a connection to Dana, but later we decided to put the two together. And truthfully, that overly sober Dana was wearing me out. I wanted some spice. Dana had that. She was a lot like Kasey, and Kasey came from a horror background, but like me, her interest are broader, and in fact, she was more excited by what is often called Women's Fiction. I hate the term Chick Lit, as that designates the origin of the usage, which is that women are like hens, running around without design or purpose. But hey, there it is. We blended the ideas, with Kasey taking the helm and me pulling up the sails on that ship.
MPS: How did the stories change when Jana appeared on the scene?
Joe: They got funnier, more irreverent, less serious, at least from Jana's viewpoint they were. They were still the same sort of stories, but Jana became the narrator. I think it made Dana more interesting to have Jana observe her and comment on her.  Dana is the master, and Jana is sort of the sorcerer's apprentice.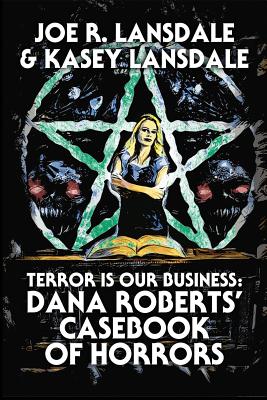 Kasey: When Jana came in the picture, it felt like a natural transition, closer to the way dad and myself usually see things. Darkly humorous. It seemed like Jana's existence allowed Dana to lighten up some, and find a middle ground with one another like real relationships of any sort do.
MPS: What do you think each of you bring to the stories?
Kasey: I think the female prospective has always been something my father is good at, but it was fun focusing on things that were from my point of view, in my current consciousness in certain instances. I think Jana allowed the humor to come in a little more since Dana was written intentionally stiff.
Joe:  One brings knowledge, the other brings enthusiasm.
MPS: Are there any particular authors who influenced the stories?
Joe: I mentioned my influences for this type of story in the first question, but to pin it more, William Hope Hodgson, Algernon Blackwood, Seabury Quinn, and Richard Matheson's original Night Stalker script, which established the character. There were others here and there.
Kasey: For me there wasn't a particular author I was channeling, more the character of Jana kept calling for me to tell her own story. I felt very character driven with these stories.
MPS: These kinds of tales partly rely on an eerie mood. How do you approach that aspect of the writing?
Kasey: I think for me I just imagine the things that I find eerie. What are the things that make me uncomfortable and scared in a good way, and then try to channel that into the stories.
Joe: With me it's something that has seeped into my bones since a child. I've read a lot of this stuff, and all manner of fiction. I learned by reading, absorbed it.
MPS: What makes them worth coming back to?
Joe: I did it out of nostalgia, but when I did, I began to learn lessons all over again. They're more severely plotted than a lot of my work. The ones I did alone I didn't plot out, but my internal knowledge of the stories plotted them as I wrote. When Kasey and I wrote together, we had some discussions, laid out some basic plot lines, thin, but directions. Otherwise, working together, we were riding our horses off in all directions at once. That doesn't work too well.
Kasey: I think the relationship between the two characters is really the key. The juxtaposition of these two women is really what I am drawn to. I know women like both of the characters, and in some ways I am like both of them, though admittedly more like Jana. It's about watching them both grow as individuals and as a team, and seeing how even very different people can come together for the greater good.
MPS: Do you see a novel length investigation for Dana and Jana?
Joe: We've discussed it. It may be in the cards.
Kasey: We definitely see more adventures for these two in the future. The response has been tremendous, and I enjoy getting to do work with my dad.