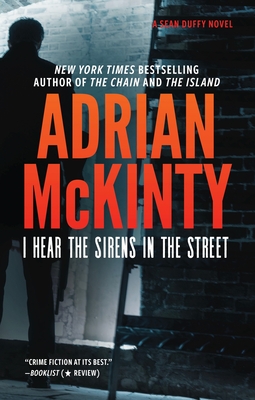 The Murder In The Afternoon book club's August book is the second in Adrian McKinty's Troubles series, a series that's a favorite to many MysteryPeople staff and customers. It follows Detective Sergeant Sean Duffy, a Catholic cop in early eighties Ireland, a dynamic that places him at odds with almost everyone. He copes with humor, a strong sense of justice, both personal and social, and a great record collection. In the book we will be discussing, I Hear The Sirens In The Streets, a grizzly discovery leads to larger crimes and a man and car anyone who remembers the eighties will recall.
A torso is found in a suitcase. A tattoo on the body part serves as the thread Sean follows into a dangerous web of murder, business, and politics. before the case is solved, he has to face the IRA and deal with famous (or infamous) car manufacturer John Delorean, who set his plant in Ireland.
I Hear The Sirens In The Streets is a great read. It examines life life in a war zone with a very human eye. Each chapter provides something to talk about. We will be meeting at 1PM, Monday, the 20th on the third floor. The book is 10% off to those planning to attend.