David Joy is quickly building a reputation as one of crime fiction's finest voices. He looks at the people on the edge of Appalachian society, a society that is on the margins of American life altogether. His main characters tend to be damaged and many are prone to violence, yet Joy keeps you with them until you realize their full humanity. In his latest, The Line That Held Us, he sets us up for what seems like a simple morality thriller and then digs deeper.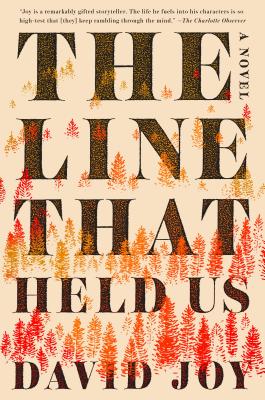 It all starts with two people trespassing, each to commit a different crime. Darl Moody goes poaching for a buck on his neighbor's land when the man is out of town. He can't find the deer, but thinks he spots a wild pig and fires. It turns out he shot and killed Carol "Sissy" Brewer who was in the woods stealing the man's gen sing. To make matters worse, Sissy's brother, Dwayne is one of the town's most violent criminals.
Darl goes to his buddy, Calvin Hooper. A brother from another mother, Calvin helps him bury Sissy behind Darl's barn. They agree not to tell anyone, but secrets are hard to keep secret in a small town and Dwayne Brewer is out for vengeance.
The simple tale is told with emotional complexity. Its straight forward plot leaves room to to delve deep into his characters and their world without dragging the pace. Calvin, who soon grows into the protagonist role is a perfect everyman plunged into darkness. A hard working, reliable, blue collar guy you'd want on the job to drink a beer with, he finds himself facing the morality of his actions with Darl as well as danger as Dwayne closes in. He is at that stage in life where friendship can be equal to family and has to deal with a decision for one that puts the other in jeopardy. As a working class man in Appalachia with deep roots, his view of the newcomers who could be saving the town , but killing its culture on par with Dwayne.
Dwayne could simply have been written as thriller psychopath, but Joy proves to know this man well. He introduces us to him with a scene where he threatens a tween bully in a WalMart. It establishes him as dangerous and a man who takes something immediately to its extreme, but we know he has a code and a belief for avenging the weak. We learn how this was honed by his relationship with Sissy. The further his actions go, we never accept them and we fear for Calvin and Darl, but we understand where those actions come from. Instead of an antagonist he becomes more of a counter-protagonist.
The Line That Held Us demonstrates David Joy's gift in relating to all his characters. We understand the society he portrays through its people and their struggles. Most of them are sinners, but many of them would like to be saints, and in the end the author reminds us we are our brother's keeper.