In July our Murder In The Afternoon book club will continue to work through one of the best current crime fiction series, the Walt Longmire books. For those not familiar, it follows an aging yet capable sheriff who struggles to keep the peace in his Northern Wyoming county as well as get his life back on track after his wife's death. We will be reading the fifth book, The Dark Horse, where Walt deals with a murder that takes him out of his jurisdiction.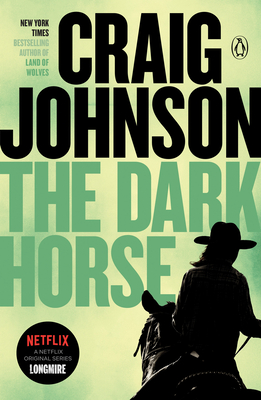 Walt helps out the town of Absalom by jailing a prisoner for them. Mary Barsard has confessed to murdering her husband, but the prescription drugs in her system cause a lack of focus, giving Walt doubts about her guilt.  He attempts to go undercover in her small town in the Powder River and find the truth. As he finds it, Walt also finds trouble.
The Dark Horse is a rich blend of mystery and modern western. It deals  with the issues of the area, the struggles of women in it, all while subtly examining crime and western fiction. We'll be able to learn a lot about the book, including the movie that loosely inspired it, with author Craig Johnson calling in to the club. We'll be meeting on BookPeople's third  floor, Monday, July 16th, a 1PM. The books are ten percent off to those who attend.