If there was any justice in the publishing world Billy Kring's Hunter Kincaid series would be as well known as Lee Child's Jack Reacher. Full of action, great plotting, and always topical, the Texas Border Patrol agent and her cohorts take on the baddest of the bad from two separate counties. In Hunter's Moon, she is recruited by a CIA agent, Art Gonzales, to track down those who killed his partner, she finds herself up against a cartel who use drones in various illegal ways. Billy will be joining Reavis Wortham and Ben Redher at BookPeople on July 8th at 2pm to talk about the book as well as Texas crime writing, but is flying solo for this interview we did with him.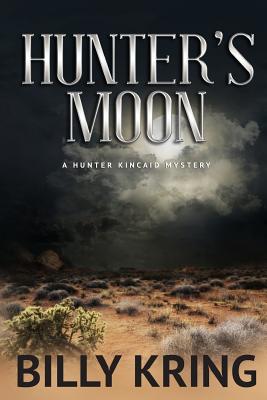 MysteryPeople Scott: How did drones become a big player in Hunter's latest case?
Billy Kring: I've been watching the technological advances in drones, both in use and in their capability, for the last five or so years, and have read little blurbs here and there on drones being used on the border to smuggle drugs into the country. Some reports from Mexico were more helpful than those from the U.S. side, talking about how their use is expanding, and in a lot of areas, including some that talked about weapons brought into Mexico by drones. And, in the last year, about things like the Sarin gas I used in my story. The possibilities are almost endless. And of course, then I thought about how Hunter would handle them, which started the entire story spinning in my head.
MPS: What was the most surprising thing you learned in the research?
BK: The most surprising thing was how prevalent and specialized homemade drones were becoming. Some are capable of moving loads of several hundred pounds, and flying individuals around on them, like something out of Star Wars. It's amazing that all of them were made in someone's garage or workshop. Arming them with weapons was inevitable, but even that surprised me because of their use as potential sniper or assassination weapons with locally purchased firearms.  Commercially manufactured drones like the Predator cost over a million dollars, but handmade drones can run less than a thousand dollars, often much less. And the rate of technological advancement in drones is incredible, both in the homemade area and in the scientific/military arena.
MPS: Did using them present any challenge to you as writer, particularly with many of the action scenes?
BK: Yes, because I'm not a flyer. I learned how to fly them while researching the story, but it still took some thinking about the scenes, because I wrote them from several viewpoints at the same time: the victim, the drone itself, and the flyer. Sure was fun to write, though!
MPS: One thing the Hunter series is known for are the villains. What did you want to explore with Pascual?
BK: Pascual Osorio is an opportunist, with a criminal bent, but not necessarily a killer like some of his associates have been. His power and influence has faded since the death of his deadly ally Prendell "Conan" Taylor, and when he joins with the mastermind of the terrorist group Aum Shinrikyo, he does so out of desperation and that sense of lost power. When the terrorist takes over and shoves him to the curb (while Pascual is suffering from cancer), I thought his mental state and desperation would be interesting to explore. Where does a dying man turn? What does he dwell on about this life? That he turned to Hunter Kincaid, his old nemesis, made for a unique alliance. It also played into the old saying, "The enemy of my enemy is my friend."
MPS: Hunter is off the books in this mission, did that make the story tougher or easier to right?
BK: It was tougher. When writing about Hunter working in her official capacity, the rules are set out by the agency. When she goes under the radar, she's operating in an environment with no rules, none. She's surviving by her wits while still trying to accomplish a mission that's not sanctioned, well, at least on the surface. Lots of things to think about when there are no rules.
MPS: Art Gonzales, the CIA agent Hunter has to work with, is a great character because he seems like he could go either way as ally or enemy to Hunter. What do you have to keep in mind when writing that kind of character?
BK: Art is just that way: he's placed with Hunter to assist her to complete the assignment, or to push her out of the picture if she's obstructing things. He's one of the elite members of the CIA's Special Operations Group, and can, if need be, perform sanctions. But, he winds up liking Hunter and they hit it off very well. As for what develops between them, that comes later in the story!