Jay Brandon's Against the Law features Edward Hall, a lawyer stripped of his license due to a criminal act in the court house. When his sister is brought to trial for murdering her estranged husband, he takes to her defense.  Mr. Brandon will be joining fellow lawyer turned novelist Manning Wolfe at BookPeople on June 24th at 2pm. We caught up with him early to discuss the court system and writing about it.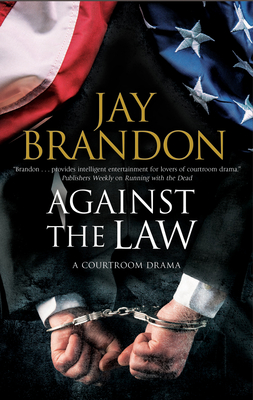 MysteryPeople Scott: How did the idea for Against the Law come about?
Jay Brandon: I hadn't written a legal thriller in a while, I wanted to write other kinds of books.  One day when I was visiting Houston, where I went to law school, an old friend of mine took me to their Criminal Justice Center, a twenty-story building filled with courts and so many defendants.  The elevators were a problem, he said. They were so slow and so crowded it took forever to get up or down. The local joke was "the Justice Center, only twenty minutes from downtown Houston." That gave me an idea: a crime inside a courthouse.  Who would naturally commit such a crime? A lawyer. That was the beginning. I've never had a courthouse itself figure so prominently in a novel. Ironically, by the time the book came out the Justice Center was non-functional, knocked out by Hurricane Harvey.
MPS: Edward possesses a jaded look out on his sister's case. Is that due to the system or his circumstances?
JB: It's because of his experience within the system.  He knows that the vast majority of defendants are guilty of their charge.  Worse, the system doesn't know how to treat one who's not: "the irregularly shaped pebble that rolls down the conveyor belt with all the other peas, into the can."  Besides, Amy is the perfect candidate. When one member of an estranged couple is murdered, where do you look for your prime suspect?
MPS: Because of the nature of Edward's case, sibling dynamics are explored. What did you want to explore in that?
JB: That just grew out of the material.  Edward is disbarred after having been convicted of his crime.  I tried to think of a case that could bring him back to the legal world; a family member in jeopardy seemed right.  I've written about families before, it's a fascinating subject, but this time, maybe because the book is set in Houston, the family is rich and well-known.  Edward and Amy's father is a world-class diagnostician. Amy has followed in his footsteps to become a doctor too, and married a doctor as well. Edward, who started out as the favored son, fell into disfavor a little when he became a lawyer, and a criminal lawyer at that.  His prison stint sealed his status as the black sheep of the family. But the case brings Edward and Amy closer than they've been since they were children. They learn secrets about each other, they depend on each other – even against their parents to a certain extent. But of course Edward can't forget that she's very likely a murderer.  But wouldn't you try to help your little sister escape prison even if she was.
MPS: The book has a lot of twists and reveals that fit so well with the pace and flow of the story. How much was planned ahead?
JB: I used to outline novels very rigorously, 20 or 30 page outlines.  Now I just take a lot of notes and when I feel I have a good grasp of the idea (usually about 10-15 single-spaced pages of notes), I start.  So much of the plot is planned, but a lot of it develops as the story grows. I love creating characters, it may be my favorite thing about writing.  Plotting is harder, it's like algebra problems. At a certain point the characters start taking over. They do what they're going to do, not what I had planned for them.  If they don't start taking over their own lives and stories, they're not very good characters.
MPS: As a lawyer, was there anything you wanted to get across about your profession?
JB: What a village the courthouse world is.  Most lawyers aren't criminal lawyers, most lawyers seldom or never go to court.  Criminal lawyers do almost daily. So that building is its own world. Gossip sometimes seems to be the primary business of the courthouse.  We all know each other's business, or think we do. It's great for storytelling. There are romances, rivalries, intrigues. It's like high school, except they're also sending people to prison.
MPS: What do writers who are non lawyers get wrong?
JB: One other thing I wanted to convey that non-lawyers often don't understand about the adversarial system of trials is that people can oppose each other vigorously without being hostile.  Once I tried a case, defending someone accused of vehicle theft, and I won. It wasn't exactly a technicality, but it was some creative lawyering, I have to say. The judge said "not guilty," I turned to my client, he said, "What now?" and I said, "Now you get to leave."  He thanked me and started walking out while I stayed at the counsel table. He looked back to see the two prosecutors I'd just won against converging on me and he looked anxious for me. What he didn't see after he went out was the prosecutors shaking my hand and congratulating me.  We knew each other, we'd worked together in the past, and they didn't begrudge my victory.
The prosecutor in Against the Law embodies that.  He and David were competitive colleagues in the DA's office and now they're pitted against each other.  But the prosecutor isn't a jerk about it. He knows how important the case is to Edward, but he has to do his job.  But he does it in a collegial way. It's not always that way in the practice of law, but when it's done right it is.