Local author Manning Wolfe joins us Sunday, June 24th, at 2pm to talk with Jay Brandon and our Crime Fiction Coordinator Scott Montgomery about legal thrillers. She wrote a post for us about how her book, Green Fees, came to be.
A few years ago, I read an article about naked women on a golf course serving up sex at each hole to golfers depending on their score (no puns intended). A news crew got wind of the event, flew over the course, and videotaped the action. Ironically, the charity event was for the Make a Wish Foundation. The play-by-play has gone viral on social media and been the basis of many golf jokes over the years.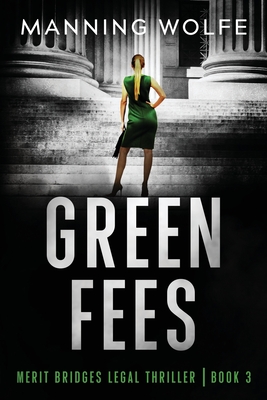 Shortly after that incident, a young golf professional was referred to my law office asking for legal representation. He wanted to extricate himself from a usurious contract with a promoter, who was a de-facto loan shark. Under the agreement he was obligated to pay half of his earnings to the money lender. In addition, the pro's hands were scarred from a childhood accident, and discomforting to look at. Surprisingly, they functioned well and purportedly enhanced his golf game.
About that same time, I met Barbara Puett, who became my golf instructor. Barbara was a protégé of Harvey Penick, both of Austin. He wrote Harvey Penick's Little Red Book and she matched it with alittle green book, Golf Etiquette. I don't know a single golfer who doesn't own the Penick book, if not both. 
The three concepts, lawyers, sex, and golf merged together somehow in my misguided mind, and a legal thriller, Green Fees, was conceived.
In Green Fees, young golf pro Mark Green borrows money from the wrong guy to keep his PGA tour dreams alive. He finds himself in so deep with Russian loan shark, Browno Zars, that he begs his lover and attorney Merit Bridges for her help.
Meanwhile, uncertainty and fear grip Austin as a murderer, who the press labels The Enforcer, avoids identification and capture.
After Merit uses every legal trick in her book to extricate Mark from Browno's grip, she becomes a target of Browno. Merit awakens to find herself hanging from a meat hook in an Austin warehouse and staring into the face of evil.
What unfolds is a story of deceit and betrayal as the identity of The Enforcer is revealed. Merit must then outwit the sinister and dangerous adversary to save herself from torture and certain death.
In the tradition of Agatha Christie's The Murder on the Links, a Poirot mystery, Harlan Coben's Back Spin, and Ian Fleming's Goldfinger, Green Fees takes place around the world of golf, but is not a golf mystery. It's a legal thriller, an Austin mystery, and a cautionary tale about trust.
This week, I saw a news article about Whataburger serving hamburgers on tortillas because of the delivery of bad buns by suppliers.
I remembered a legal case in my office involving swans that had invaded an apartment swimming pool causing a lawsuit with the next-door neighbors.
I saw a graffiti artist being arrested near the South Lamar railroad tracks, carrying a bag of paint cans.
After a little contemplation, I wonder what my misguided mind might do with all that. Buns, Birds, and Body Bags?
Manning Wolfe, an award-winning author and attorney residing in Austin, Texas, writes cinematic-style, smart, fast-paced thrillers with a salting of Texas bullshit. Her series features Austin Lawyer Merit Bridges. As a graduate of Rice University and the University of Texas School of Law, Manning's experience has given her a voyeur's peak into some shady characters' lives and a front row seat to watch the good people who stand against them.