Thanks to Tim Bryant for writing a guest blog post for us about his books and where Wilkie is headed. Tim will be here Saturday, June 16th at 2pm with Mike Nemeth to discuss their work. 
Wilkie John Liquorish has turned out to be every bit the handful I wrote him to be and then some.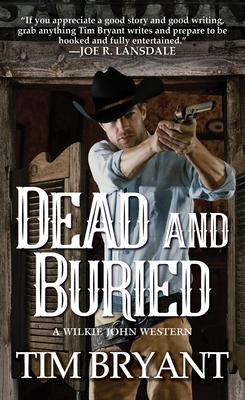 Kensington Books put out the first book in the Wilkie John Western series, A World Of Hurt, in November of last year. The second, Dead And Buried, just followed at the end of May. I had just written the fourth book (Old Mother Curridge) of my Dutch Curridge Mystery series in which a flawed anti-hero private detective fought both society's and his own worst ills in an attempt to level the uneven playing field of 1950s Fort Worth. With Wilkie John, I decided, I would push my protagonist as far as I could. Unfortunately, this also pushes the reader along with him.
Wilkie John is a seventeen-year-old boy, thrown into a violent and unforgiving world of 1880s Texas with no father, and worse, no moral compass at all. He's trigger happy, and that's just about the only kind of happiness he really knows. He shoots two people in the first chapter. The body count grows. At one point, he gets a job as a gravedigger, a job that seems to suit his abilities, as he can always kill someone if he needs the work.
There is a black humor to Wilkie John and to the book in general. He doesn't wear a white hat. If that's a problem for him, it seems to also be a problem for his readers. Reviews for the first book have proven divisive. One reviewer thought the tale completely unredeemable, even though he threw the book against a wall and failed to finish it. And, may I add, he did get all of his facts completely correct. I couldn't disagree with much of what he said, although he did leave a great deal unsaid.
Is Wilkie John redeemable? Well, the reader will have to keep reading, but the protagonist does back his way into a job with the Texas Rangers. I finally came to the conclusion that readers who have trouble with the Wilkie John books dislike them mostly for their authenticity. Wilkie John is wild and a little wooly, but in a way very much like Billy the Kid. I started him off at the age of seventeen, both as a nod to Billy and as a way of giving myself lots of room to develop him. With that much room, I decided, I could also give him a lot of need for developing as well.
If the second book does as well as the first, we're certainly hoping for a third in the series. I've learned to like Wilkie John just fine, so I do believe you can too. He's got some growing up to do, but didn't we all at seventeen?   
The other thing of note about the Wilkie John westerns is that they're based around the section of Fort Worth known as Hell's Half Acre. The 1880s were the era when that outlaw section of town was gaining its fierce reputation. Other wild men like Butch Cassidy and Wyatt Earp (some people now misbelieve that he was a white hat wearing true blue good guy, but he was nothing of the sort) were gambling and carousing in the saloons and brothels there. It's a fascinating time and place to throw a young morally-compromised boy like Wilkie John into.
In an example of getting the cart before the horse and pulling backward into the past, my Dutch Curridge detective books were also set in Hell's Half Acre, years before I even thought of writing the westerns. They, however, were set during the sundown of that fabled place, as it was making way for the spiffed-up Fort Worth that we know today. In fact, Gary Goldstein at Kensington read those Dutch Curridge books and then gave me the opportunity to write for Kensington. He never stipulated that they be set in Fort Worth or in any specific location though. Of course, I had done a great deal of research on Fort Worth by that time, and I knew it was prime placement for a 1880s western series.
The Dutch Curridge books were successful enough to get me to where I am today. If you're interested in the colorful history of Fort Worth or Texas in general, you might enjoy them. You might also enjoy the Wilkie John westerns, A World Of Hurt and Dead And Buried. All they really require is the love of a good story about real people. It might help if you lean more toward Elmer Kelton than Louis L'amour. (Kelton's The Time It Never Rained and The Good Old Boys are still two of my favorite westerns.) As Elmer himself used to say, "I can't write about heroes seven feet tall and invincible. I write about people five-foot-eight and nervous." Wilkie John is five-foot-one with a king-size inferiority complex.
Texas in the 1880s was a wild and lawless place. It could still be that way in the 1950s. There are lots of tales about those days. Some aren't tall at all. Sometimes they pack a pretty mean punch. Sometimes they shoot first and aim second. Sometimes the truth really is stranger than fiction. Other times, fiction rings truer than any newspaper article or history book. Whether you like it or not.