This month's pick of the month was reviewed by Meike Alana, from the BookPeople event staff and a guest blogger for MysteryPeople.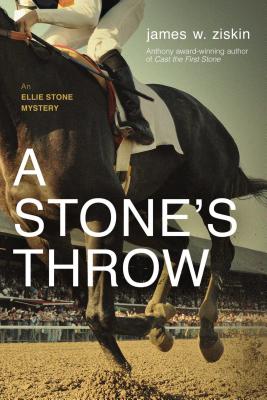 James Ziskin is a perennial favorite here at MysterPeople, so it's no surprise his latest Ellie Stone mystery, A Stone's Throw, is our June Pick of the Month. The Edgar-nominated series is set in the early 1960's and features twenty-something girl reporter Ellie Stone. She's one of my favorite characters in the canon—wise beyond her years but at times naïve and impetuous, steady as they come with the occasional flare of irresponsibility, deeply moral but hard-drinking and promiscuous. Ellie is a realistically flawed, equally strong and vulnerable female character—in other words an authentic young woman–and that can be a novelty on the darker side of the genre. The fact that she's penned by a man who is—well, let's say his 20's were a few years ago—is nothing short of incredible and speaks to Ziskin's tremendous talent.
This time around Ellie becomes entrenched in the world of horse racing, particularly the seedier side populated by gangsters and thugs. On a sleepless night she follows a police scanner call about a fire at an abandoned stud farm outside Saratoga. While investigating a story for her newspaper, Ellie almost literally stumbles over two bodies that have been burned beyond recognition. She sets out to discover the identities of the two victims; when she learns the fire was sent intentionally she becomes determined to find their killer as well.
To do so she has to convincingly enter the world of horse racing, one to which she's had no exposure. She needs a guide, someone who understands the history of the sport and the ins and outs of placing a bet. It turns out that Ellie's best friend Fadge Fiorello is just such an expert. He does show her the ropes at the track and educates her about the key players; unfortunately he's too busy studying the Racing Form to realize that this just could have been his chance to really impress Ellie. (Instead he has her worrying about his gambling habits….) Through old-fashioned, methodical detective work Ellie is able to piece together the story that caused those 2 individuals to lose their lives.
One of the unique things about this series is that each installment deals with a particular social issue of the time—homophobia, misogyny, sexism.  Ziskin's done his research here because he never strikes a false note with his depictions of the past. There's no nostalgic sugar coating—he's careful not to cast a rosy glow over what was often a turbulent time. While the world of horse racing can be a glamorous one, it has an unseemly side which Ziskin delves into here.
The Ellie Stone mysteries have been recognized by a slew of awards—winner of the Anthony and Macavity and nominated for the Edgar, Barry, and Lefty awards and all of those accolades are earned. Ziskin is a linguist by training and that shows in the lyricism of his prose. We hope he can come up with many more titles involving the word Stone so we can keep watching Ellie grow.