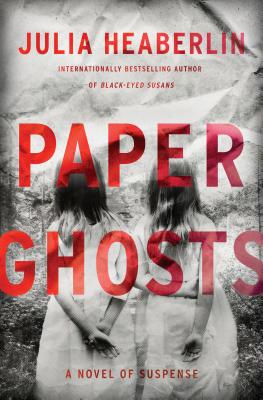 MysteryPeople interviewed author Julia Heaberlin, author of Paper Ghosts. Julia Heaberlin is also the author of the critically acclaimed Black-Eyed Susans, a USA Today and Times (U.K.) bestseller. Her psychological thrillers, including Playing Dead and Lie Still, have been sold in more than fifteen countries. She will be here at BookPeople on Thursday, May 31 at 7pm. This is one you won't want to miss!
Mystery People: What are you reading these days?
 Julia Heaberlin: The Smiling Man by British noir writer Joseph Knox, King Zeno by Nathaniel Rich, How to Talk Like Ted: The 9 Public-Speaking Secrets of the World's Top Minds (but people who come to the BookPeople event shouldn't expect that I have mastered this).
 MP: What books did you love as a child?
 JH: Harriet the Spy, who has been my Facebook icon for years, head down, scribbling her little reports; Anne of Green Gables because I wanted to BE Anne with an E; Rebecca by Daphne du Maurier, which inspired my dream to write gothic thrillers; From The Mixed-Up Files of Mrs. Basil E. Frankweiler (I still want to sleep in a museum on the sly and survive off of coins I pick up in a fountain); Little House in the Big Woods, because my mother read it to me with my head in her lap. And an adaptation of the play The Miracle Worker, maybe from Scholastic. I learned the sign language alphabet from the back cover, which I've never forgotten. 
MP: What's the hardest thing about writing?
 JH: Creating a great ending that lives up to yours and readers' expectations. A disappointing ending ruins the whole book.
 MP: What's the best thing about writing?
 JH: The euphoria of putting together a really good sentence.  On a personal, how-it-affects-my-real-life level, it has been meeting people through my research, which I was reminded of while doing an interview for my next book (after Paper Ghosts!), which includes a girl with only one eye.  
 I was talking to a beautiful teen-ager who has a prosthetic eye so perfect no one knows it but her best friends. I asked her mother, who sat with us, to describe her daughter, as I sat there with my pen and journal. She didn't hesitate. These words spilled out in this order, like she was reciting a poem.
 Resilient
Strong
Resourceful
Tender
Kind
Empathetic
 This is why I research. It's a gift to myself. People never fail to remind me how beautiful the world is.
 MP: What's your favorite word?
 JH: Out loud, anything with a– in it. Kicka–. A–hat. That's a–. On paper, the word "fate." Or "dark." I like simple, four-letter words with power.
MP: What's a sentence you've loved and remembered from a book?
JH: "I am doomed to remember a boy with a wrecked voice—not because of his voice, or because he was the smallest person I ever knew, or even because he was the instrument of my mother's death, but because he is the reason I believe in God."— A Prayer For Owen Meany by John Irving.
MP:Do you have any weird writing habits?
JH: I'm unable to survive a deadline without Whataburger Dr Peppers.
 MP: Who are your literary influences?
 JH: Alive: John Irving, Jess Walter, Tana French, Thomas Harris. Dead: Emily Dickinson, Daphne du Maurier, Edgar Allan Poe, Patricia Highsmith.
MP: What's your favorite place to write?
 JH: In my mind, oceanfront to the sound of waves; in reality, at my kitchen table with the washing machine as background (and the dog snoring).
MP: What would you be doing if you weren't a writer?
 JH: Photographer. You will see my love of photography's haunting power in Paper Ghosts.