Ricky Bush puts his love and knowledge of the blues into his crime fiction. In his latest, The Oaxacan Kid, blues collector Foster Cane is on the hunt for a recording performed by a Latino harmonica player. His search leads to a human trafficking ring and his father's killers. Billy will be joining author and filmmaker John Shepphird May 5th at 2PM, but we caught up with him earlier to discuss writing and music.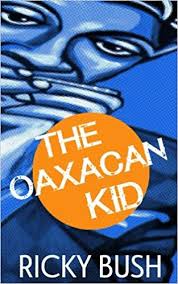 MysteryPeople Scott: Which came first, the character of Foster Cane or the story about the Oaxacan Kid?
Ricky Bush: My story germinated around the idea of a collector of rare blues records intent on tracking down an obscure bluesman. So, I guess I fleshed out Foster Cane first. During the '60s a folk music revival was afoot and a lot of musicologists began discovering early blues recordings and started scouring the Mississippi Delta looking for those musicians. They recorded them and brought them out of obscurity, which launched a blues revival. The Oaxacan Kid became Foster's target. Since few Hispanics have recorded blues, I thought I'd add that twist.
MPS: The blues world serves as a back drop for your books and you are an accomplished harmonica player. What do you want to get across to the reader about the music?
RB: Blues music reflects the human condition. The music is much more bipolar than some people realize, swinging from sad and lonely to upbeat and joyful. Yeah, there are a lot of blues about losing a good woman (or man), but plenty more about finding a good woman (or man), and all life experiences in between.
MPS: Do you see anything it has in common with crime fiction?
RB: Crime fiction is all about the blues. The genre reflects the human condition in much the same way. Plenty of blues recordings are crime stories personified. Check out Pat Hare's version of 'I'm Gonna Murder My Baby' from 1954. Sad thing is that he did just that. Another good example is Lazy Lester's 'Bloodstains On The Wall'. That's crime fiction.
MPS: Family runs through the novel with Foster and his antagonists both having to deal with their relations. What did you want to explore in those dynamics?
RB: You're right. Family dynamics drive the plot and theme throughout The Oaxacan Kid. The Morenos are as tight knit as the Cane family. One is more intent on the preservation of criminal enterprise and the other is intent of the preservation and safety of the family. 'The Godfather' and 'The Sopranos' explored those dynamics in depth. The 'Breaking Bad' series dove into the same waters. I think just exploring how far one will go for love of family, whether it's controlling criminal territory or the attitude of 'not with my family, you won't' will always create the tension needed to drive a story.
MPS: You use Houston well. Other than familiarity what does the city provide you as a writer?
RB: I grew up sixty miles south of Houston and have lived ninety miles east of Houston for over thirty years. My wife's from Houston, so I know pretty much know the city. Spent tons of time in the excellent blues venues in Houston and my first protagonists are blues harmonica musicians who gig in Houston and those blues clubs serve as models for my first three books. Houston is constantly dealing with human and sexual trafficking and historically has been a conduit for drug smuggling from Mexico. The Oaxacan Kid explores those themes.
MPS: If you were introducing someone to the blues, what three albums would you tell them to listen to first?
RB: Gotta start with the roots. 'The Complete Recordings of Robert Johnson' is essential because he's the most influential for those that followed. Muddy Waters 'His Best 1947-1955′. He took the blues from Stovall Plantation to Chicago, amplified it, and created the greatest blues band ever. He introduced the world to Little Walter, the greatest harmonica player-ever. Howlin' Wolf 'The Definitive Collection'. The Wolf's blues is gritty, down in the alley, gut bucket blues on par with Muddy's influence on the genre.