John Shepphird is not only an award winning crime author, he also has spent years as a director of movies in the low budget arena for cable networks like SyFy and ABC Family. He puts that to use in his latest novel, Bottom Feeders. A put upon director struggling to shoot a period drama on a shoe string budget not only has to put up with a diva of a leading lady and tight schedule, but soon someone is knocking off members of the cast and crew with a bow and arrow. It's a classic whodunnit with a fun insider's look at the temporary community a film crew forms. John will be here on May 5th at 2PM with fellow crime writer Ricky Bush. We found some time to talk with him earlier about crime fiction and film making.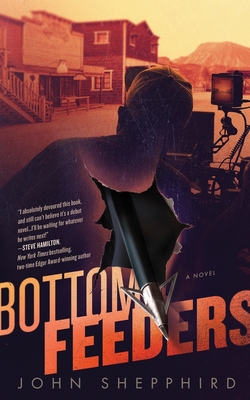 MysteryPeople Scott: As somebody who worked on film sets in the past, you captured the weird bubble of a society it creates. What did you want the reader to know about film work?
John Shepphird: You rarely see the actual world of low-budget film-making represented and I thought I'd write what I know. Having directed nine TV/straight-to-video movies and hours of television, I'm part of the community of artists that create entertainment found on the fringe of your cable guide–SyFy Channel, Lifetime, USA Network and ABC Family. Contrary to what people are led to believe, there is very little glamour in movie making. You have to get up very early. The hours are brutal and schedules change day-to-day. This is especially true in low budget. There have been plenty of books, movies and TV shows depicting the world of stars, agents, limos and personal assistants. That's all so cliché. I wrote about the people who aspire to bat in Hollywood's major leagues.
MPS: While edgier, the mystery is in an Agatha Christie amateur-sleuth. Did a tale with a non-professional investigator in the lead present any sort of challenge?
JS: I love a whodunit. It's the perfect balance of structure and character. That was my jumping off point. The cast and crew on a set becomes a temporary family with many similar dynamics found in an actual family, including all the dysfunction. I like to put my characters in a pressure cooker, then take a deep-dive into their best and worst behavior. Sondra, the San Bernardino County Deputy Sheriff, is the one outsider, a professional investigating the brutal murders — but she is not the primary focus to drive the mystery. She has challenges and flaws of her own and it's her perspective that serves to escalate enlighten the story.
MPS: While the book has a unique voice and take its roots are hard planted in the traditional whodunit. Did you draw from any influences?
JS: I'd met author Michael Nethercott at the Bouchercon World Mystery Convention in Albany just as his first novel The Seance Society came out. It paid homage to Agatha Christie, but also Arthur Conan Doyle and Rex Stout. I don't necessarily read cozies. I write dark suspense and noir, but I liked the book so much I bought copies and gifted it to friends and family. I'd been thinking about starting a whodunit but it was this book that inspired me to take a crack. Bottom Feeders started out as an exercise, then the characters took on a life of their own.   
MPS: Which character is the closest to you or someone you worked with?
JS:. Every character is derived from people I've worked with, and not necessarily on the films I wrote and directed but also the projects I was hired on as a crew member. Director Eddie's perspective is probably the closest to mine as he tries to navigate the treacherous waters, and not go down with the ship. There's a lot of things to worry about, believe me. Many who work in film and TV are very passionate about what they do. I have great respect for them. We're all a little crazy, sure, and most of us will admit it. I dedicated this book to them.
I dedicate this novel to the legions of hard-working craftspeople and performers who have carried sandbags, set lights, cobbled together wardrobe, swung microphones, memorized dialogue, painted sets, dusted faces, pulled focus, teased hair, coordinated chaos, hit their marks, and built it all up only to tear it down again—making something out of nothing. To the dreamers and the schemers in the low-budget trenches, this is for you.
MPS: Did writing about a subject you knew so well actually present any challenges?
JS: If anything I wanted to include more of the details baked into low-budget filmmaking but they don't necessarily advance the story. Once the action kicked in I couldn't slow the pace to explore nuance. The technology has changed, but the fundamentals of motion picture production has remained the same–cut to the chase.      
MPS: How many times have you wanted to commit murder on set?
JS:. I've never had urge to kill cast or crew because they're like family. There are a few executives and producers I'd considered taking a swing at back in the day. Ultimately nature took its course. In the span of my career three executive producers have been incarcerated for securities fraud including Jordan Belfort, the actual "Wolf of Wall Street" depicted by Leonardo DiCaprio in the film. Another producer was jailed in a surrogacy/medical-tourism scheme. The world of independent film is ripe with personalities. There are hidden agendas. Get movie professionals together and horror stories will be swapped. We're all just crazy enough to jump back into the flame.