Clifton Adams is one of those genre authors that deserves more of a reputation. Mainly known for his westerns (Desperado, Noose For A Desperado), he wrote a handful of crime novels not too long after World War Two. A great example of his crime work is never Say No To A Killer, recently republished by Stark House on their Black Gat line.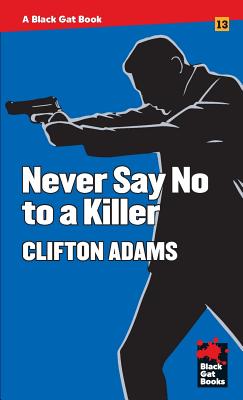 The main character, Roy Suratt, is far from what you'd call a hero. We meet him, executing a prison break, killing a guard in the process. He plans to meet his old cell mate, John Vanci, on the outside. John will pay him and help him disappear if he does a certain job. Instead, he finds Dorris, John's widow.
The Vanci's ran a successful  black mail operation in their town, until they crossed the wrong mark. John wanted Roy to take the man out before he and Dorris were murdered. Dorris says she'll honor their deal. Roy agrees to do the hit only if he becomes her partner in the business.
The book delivers several twists and turns. As in noir tradition, few of them are good for Roy. You know that his greed and lust will doom him, it is simply by what means, a mark, a rival, the law, or the love triangle he develops with Dorris and one of the mark's wives. You don't really root for Roy to survive. The suspense lies in how far he will go.
Adams tells this tale in the style of a bad man's nightmare. It is rich and tightly plotted with a mood as black as a moonless night. Never Say No To A Killer  stands as proof that Clifton Adams was a master story teller, no matter what story he was telling.