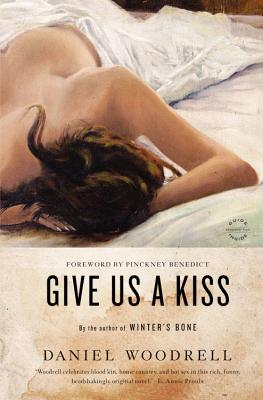 For our April Hard Word Book Club we will be reading from one of the masters of rural crime fiction. Daniel Woodrell is one of those authors other authors revere. Best known for Winter's Bone, he chronicles the marginalized in his Ozark home area. We will be reading his first book to do this, Give Us A Kiss.
The book follows Doyle Redmond, a ne'er do well writer, leaving his California wife in her Volvo. As a favor to his folks, he goes down. He goes to his home town of West Table, Missouri, to convince his brother Smoke to turn himself in to Kansas City law enforcement. Instead, Doyle finds his own trouble, when a marijuana deal from Smoke's "money garden"  goes wrong and Doyle reignites a blood feud with The Dollys, a family of hardcore criminals.
This is Woodrell at his most entertaining. The book is laid back and funny with sudden pops of violence that build suspense into the story the further it goes as it looks at family, history, and literature itself. This should be one of our more fun discussions. We will be meeting on BookPeople's third floor, Wednesday, April 25th, at 7PM. The book is 10% off to those planning to attend.
In May we will be discussing a book by one of Daniel Woodrell's mentors and friends, James Crumley's The Final Country.