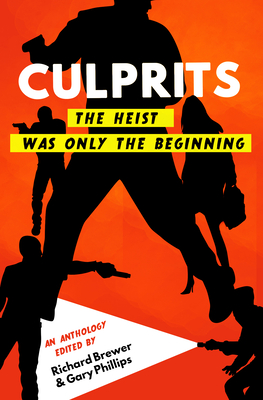 It is hard for me to resist a heist novel or film. A bunch of sharp professionals with an even sharper plan that somehow goes sideways can always hook a reader or writer no matter how formulaic. Writers Richard Brewer and Gary Phillips found a handful of fellow writers in love with the big score to give it a fresh take with Culprits: The Heist Was Just The Beginning.
Both Gary and Richard write the first chapter together, featuring a unique target. Hard case heist man O'Conner gathers a group of smooth criminals to steal an illegal slush fund off a wealthy right-winger's Texas ranch. A double cross happens with the pilot who was supposed to fly them out, leaving each member on the run with their split of the take. That's when the other writers take over.
Each author takes a character and writes about them dealing with the fall out of the heist. Zoe Sharp and Jessica Kaye respectively take the inside players, the power broker's trophy wife and her penny-ante thief lover, delivering well executed double and triple crosses that ripple through the book. Joe Clifford taps into the hard fatalism of a classic Manhunt magazine story, telling us the fate of "Eel Estevez." Gar Anthony Haywood gives another side to the turncoat with "I Got You." David Corbett gives us a slow burn suspense tale featuring the financier of the heist. Brett Battles and Manuel Ramos also deliver great contributions. Richard and Gary come back at the end with the climax.
The movement from each author's story to the next is fluid. While each works individually as a short story, when placed in sequence each story shows its relationship to the previous. Since each chapter is from the point of one of the criminals, the various author voices never become incongruent.
Like master heist men themselves, Richard Brewer and Gary Phillips gathered their crew together and pulled off a perfect hard boiled job, though nothing went sideways. Most "shared novels," even the best, come off as little more than an interesting experiment and a fun way to get writers together. This was the first time I felt a seamless story was being told with one. If I was going to join a gang of criminals, I'd want Gary and Richard to be the leaders.