Brad Meltzer has written another great thriller, this one called The Escape Artist. It is about Nola Brown, an army sergeant, who is presumed dead as the book begins in a strange airplane crash that begins the book. But while the government has confirmed her death a mortician, Zig, who knows Nola and feels an obligation to help her figures out that she is alive and on the run,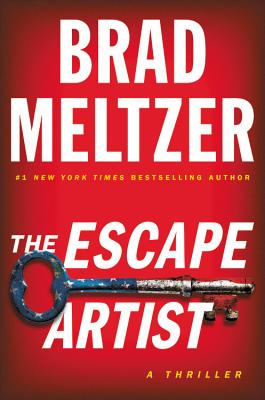 Meltzer has a varied career, not just writing thrillers but also writing books about heroes (Heroes for My Son and Heroes for My Daughter, I Am Amelia Earhart and I Am Abraham Lincoln) and writing comic books (including Justice League of America), for which he won the Eisner Award.
Brad agreed to do another email interview about his new book.
Scott Butki: How did this story come together?
Brad Meltzer:  Zig is named to honor a real Zig, but he's an amalgam of all the amazing morticians I met at Dover. These are men and women who rebuild hands (rather than giving a fake prosthesis), so that a mother can hold her son's hand one final time…or who spend fourteen straight hours wiring together a fallen soldier's shattered jaw, then smoothing it over with clay and makeup, just so they could give his parents far more ease than they ever should've expected at their son's funeral. A few of them, like my fictional Zig, will never put in for overtime. Heart. Heart. Heart.
SB: Can you speak to what you say in the preface about how this book was partly inspired by a USO trip?
BM: Years ago, I went to the Middle East with the USO, then a few months back, I took another trip to entertain our troops. Dover Air Force Base is a place I never thought the government would let me into. The Dover scenes in the book are all based in reality: Dover is home of the mortuary for the US government's most top-secret and high-profile cases. On 9/11, the victims of the Pentagon attack were brought there. So were the victims of the attack on the USS Cole, the astronauts from the space shuttle Columbia, and the remains of well over fifty thousand soldiers and CIA operatives who fought in Vietnam, Afghanistan, Iraq, and every secret location in between. In Delaware of all places, at Dover Air Force Base, is America's most important funeral home.
In their building, as you see in the book, they make sure our most honorable soldiers are shown the dignity and respect they deserve. In addition, the people there know details about hidden missions that almost no one in the world will ever hear about. Dover is a place full of mysteries…and surprises…and more secrets than you can imagine. As someone who writes thrillers, it was the perfect setting for a mystery.  Plus, in today's world, we need real heroes. The people here are the real deal. I knew I found my hero.
SB: I've heard the last chapter you wrote for The Escape Artist was actually the first chapter. That sounds counterintuitive. Can you explain?
BM: By the time I reach the end of a book, I always have a new view of the beginning. And as I looped around, I saw that opening scene so clearly. It needed the extra punch in the beginning.
SB: Can you tell us about the protagaonist, Nola Brown, and why she is your favorite protagonist? Do you agree with praise that says she could go toe-to-toe with Bob Lee Swagger, Jack Reacher, Lisbeth Salander and others? This is the first of a new series, right?
BM: I appreciate those compliments, but they're not fair to Jack Reacher, Lisbeth Salander and the others. To me, Nola is Nola. She was born on a specific trip. We were filming the very first episode of our TV show, Lost History and were in the HQ of one of the most obscure jobs in the Army: The Artist in Residence. Since World War I, the Army has assigned one person—an actual artist—who they send out in the field to…paint what couldn't otherwise be seen. It's one of the greatest traditions in our military—they call them war artists. They go, they see, and paint, and catalog victories and mistakes, from the dead on D-Day, to the injured at Mogadishu, to the sandbag pilers who were at Hurricane Katrina. In fact, when 9/11 occurred, the Artist in Residence was the only artist let inside the security perimeter. From there, Nola came to life in my head. Imagine an artist/soldier whose real skill was finding the weakness in anything. The Escape Artist started right there. And yes, she's coming back
SB: What does it mean to you to reach the 20 year mark as a published author?
BM: It means I'm old. And it means I can do one of two things: 1) assume I'm amazing at this and keep doing it…or 2) take a hard look at all I've done and try to get better. For this book, that's what I aimed for: I looked back at which books of mine I liked best. The answers all had one thing in common: amazing characters. So I wouldn't start this book until I had Nola.
SB: You've now done all kinds of different ventures from your thrillers to books about adult heroes for boys and girls do you work on television. How do you keep it all straight and which of those is your favorite to do?
BM: I love them all. The kids books are my soul in book form. But the thrillers are the house I build with my own hands. There's nothing like building an entire world from scratch.
SB: The quote before the book starts is: "1898, Jon Elbert Wilkie, a friend of Harry Houdini, was put in charge of the United States Secret Service. Wilkie was a fan of Houdini and did his own tricks himself.  It is the only time in history that a magician was in control of the Secret Service." Can you explain the meaning and/or foreshadowing of that quote?
BM: Let me just say it: I loved that detail. It just haunted me for years. And I also loved when I found out where Harry Houdini donated all his magic books after he died. You'll see in The Escape Artist. I didn't make that up.
SB: You did a tremendous amount of research about the Dover Air Force Base. What do you want readers to learn and understand about the place?
BM: It's so easy to see deaths as just numbers in a war. But it never is. When you're done with The Escape Artist, you'll never look at a soldier – or a war — the same way again.
SB: What do you want readers to take away from this book?
BM: For twenty years now, all I've been doing is telling my own story. Over time, I've realized that: 1) my life takes on new hardships and 2) I'm more honest with myself and my readers. So yes, Nola and Zig—and the broken parts of their souls—are a reflection of my own worst moments and fears. Fortunately, their lives are far more devastating than mine. But their paths out of loneliness and sorrow are exactly the same: It's the story at the center of every life. We all need to love and be loved. It's the only way Zig and Nola will ever pull off the hardest magic trick of all: coming back to life after a tragedy.
SB: What are you working on next?
BM: We do have the I am Gandhi graphic novel in May. My new Superman story with artist John Cassaday also comes out in May for Action Comics #1000. Then I am Neil Armstrong comes out in September. And as for the new thriller, I can't shake Zig and Nola. They talk to me every day. So yes, you'll see them again soon.
Scott has interviewed about 25 authors a year for more than 10 years. You can see an index of the interviews here.