Readers of this blog have likely noticed the diverse tastes reflected by its contributors, so it's rare that 2 of us will agree on one of our year-end Top 10 selections.  Robin Yocum made it happen last year with A Welcome Murder, so there was a bit of a tussle when the ARC for his latest, A Perfect Shot, arrived in our offices. This writer prevailed, and was definitely not disappointed—the ride was just as wild, with twists and turns that made it a blast.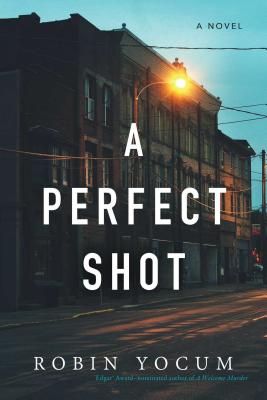 Nicholas "Duke" Ducheski is probably the best-loved citizen of the eastern Ohio steel town of Mingo Junction.  Some 20 years earlier, he orchestrated what is remembered to this day as "The Miracle Minute"; in a span of 63 seconds, Duke put up enough points to propel the Mingo Indians' high school basketball team to the state championship. Hardly a day passes that someone doesn't want to talk about "the game," and you can replay the recording on local jukeboxes.
But Duke's pushing forty and thinks it might be time to leave his high school glory days behind. He decides to capitalize on his popularity by opening a restaurant he christens "Duke's Place." Things are popping until disaster strikes—"Little Tony" DeMarco (a known mob enforcer who just happens to be Duke's brother-in-law) comes into the restaurant and murders Duke's oldest friend. DeMarco thinks he's untouchable, but Duke has other plans—he thinks he's found a way to take DeMarco down, but it would mean leaving Mingo Junction (and his identity as the town hero) behind forever. And if he's not the Duke of Mingo Junction anymore, then who would he be?
Fans of Yocum's work will recognize similarities between Mingo Junction, Briliant, and Steubenville (settings of his previous novels). It's an area Yocum knows well, and the reader senses his deep love and respect for this hard luck region of the country. These towns saw better days when the steel industry was booming; most of its natives have moved off for jobs, and those who stay behind often struggle to get by. For many of them, high school was about as good as it got; in Duke that created a yearning for something more. And when circumstances conspire to keep Duke down, he has to figure out just how far he'll go and how much he'll give up to become who we wants to be.