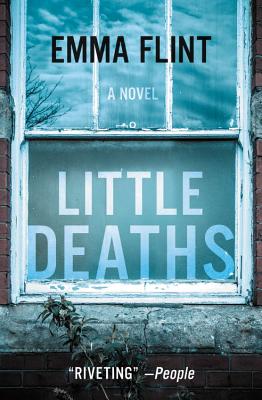 It took me a while to read Little Deaths by Emma Flint.  Perhaps because of the time period.  I don't normally read books that aren't set in the modern day unless they're by Laura Lippman or Megan Abbott or other authors I trust frequently.  I am so disappointed—not in this book, which was absolutely stunning, but that I waited so long to read this fantastic novel.  This book, loosely based on a true story, is anything but boring, predictable, or dull.  I did, in fact, read it all in one sitting—one very long sitting, staying up all through the night while my partner constantly asked me to go to bed.  It was that haunting.
Little Deaths, like many of Megan Abbott's books (or all of Megan Abbott's books, really, and most of Laura Lippman's standalones as well) is based on a true story—did a woman actually kill her young son and daughter? From the beginning of the novel, we know that things do not bode well for Ruth Malone, and the novel goes on to chronicle the trial she endures for—and I won't spoil anything—perhaps murdering her own children.
Stories like these are often complicated.  I come from South Carolina, where Susan Smith drowned her own sons in the '90s, when I was still a child.  There are many women who experience or commit several crimes, often enduring post-partum depression or other issues that drive them to a point of madness or simply utter confusion and loss.  Flint manages to portray all sides of the situation with such agility and fierceness that the reader is forced to question everyone, and even sympathize with a would-be, might-be child murderer.
There are so many things incriminating Flint's protagonist, this woman who has had her own hard life and now must face an even tougher outcome. Yet the book flows effortlessly, never weighing the reader down too much with too much gravity or sadness, always reminding the consumer that this is the woman's story, not the child's story, and that the woman at the center of the book is, in many ways, a victim of the times she lives in and her situation.
I do have one problem with this book, and it may seem juvenile. I wish it was longer, and that is purely for selfish reasons. I did not want this book to end. Little Deaths, a play on words, a play on my heart, is a book I wanted to continue on forever, just so I did not have to part with the characters or, even more frankly, the writer Flint's beautiful style. She can at once be so matter-of-fact and also lyrical it puts many other authors to shame.
If you don't trust me in regards to Flint's stunning novel Little Deaths, then perhaps refer to the numerous nominations and praise it has received, the stunning responses of fans from around the globe who truly love this book.  I rarely close an article by saying this—and yet, with so many great debuts coming out this year, this phrase may become a favorite of mine—I cannot wait to see what Emma Flint produces next.  She is a writer of superb talent that is virtually unmatched by beginner writers, someone who should be revered and read widely.  She is a writer who understands women, various time periods, and all of the emotions and contradictions of the human hearts.
Read Little Deaths.  Read it now.